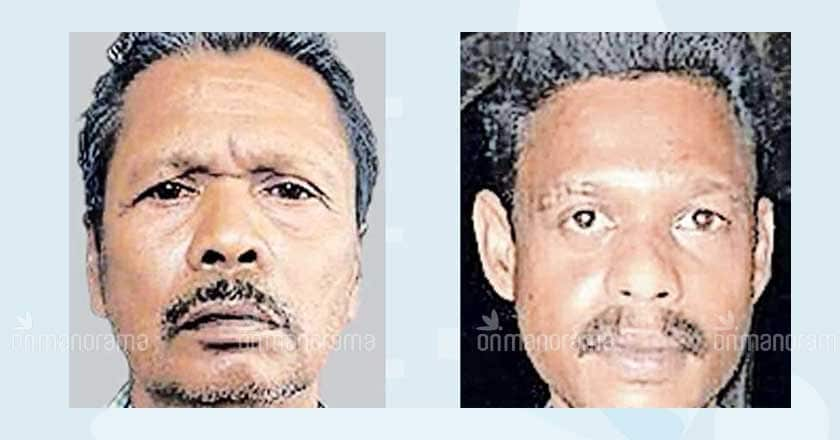 Melukavu: A family here in Kerala's Kottayam district witnessed two simultaneous deaths, including a murder by a member, a week ago. However, the double tragedy came to light after a police probe over an unidentified dead body found in a gorge near Konipadu at Melukavu a few days ago.
Subsequently, a 68-year-old man, named Chacko (Pappan), has been arrested for killing his alcoholic son Johnson Joby, 35. Chacko's mother, 91-year-old Mariyamma who was witness to the brutal crime, reportedly died of shock.
The body, with a plastic rope tied around the stomach, was found to be two days old when found at a depth of 20 feet.
Johnson, who was addicted to alcohol and drugs, lived at Vellara. Unable to bear his harassment, his wife and child had left him, the police said.
Chacko, his wife and mother lived at a rented house at Moonilavu in the district. Johnson, who came to Chacko's house on March 9, got into an altercation with him. Johnson, who was back at the house on March 11 in an inebriated state, broke the house appliances and assaulted his father. Chacko then hit Johnson's head with a hammer, the police said.
During this commotion, Chacko's mother collapsed. The elderly woman was taken to a private hospital at Erattupetta by Chacko and his wife, but her life could not be saved.
Her mortal remains were taken to a relative's house. Chacko then returned to the house, took his son's body in a car and dumped it in the gorge.
Later, Chacko took part in the funeral of his mother.
The police had received information that Johnson had been to Moonilavu and fought with his father. Chacko admitted to the crime as he was questioned over this.
Blood stains and parts of the rope used to drag the body were found from the house.
The accused would be presented in court on Monday.
The police team comprising Pala DySP Shajimon Joseph, Melukavu SI Lebimon, Naushad, Sunil, Pala SI Hasheem, Thomas Xavier, Arun Chand, Biju, and Ramdas nabbed the culprit.