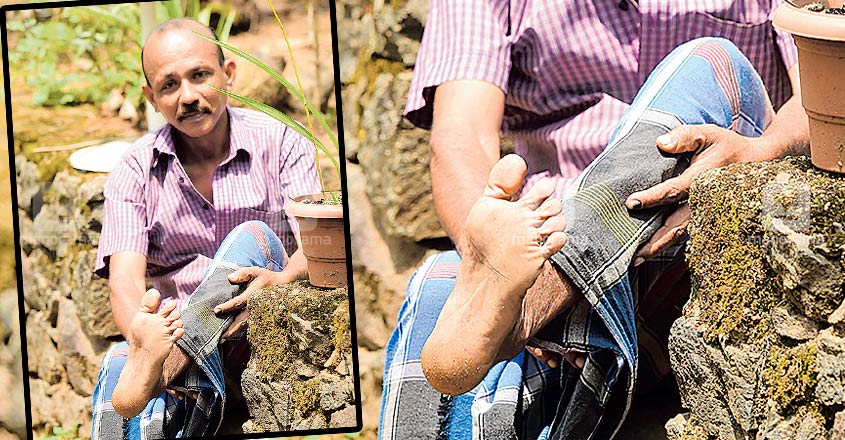 Meenadom: The suspension public transport services in the wake of the COVID-19 lockdown has left many stranded at their work places across Kerala. A Kottayam native walked all the way from Ernakulam to Ettumanoor in Kottayam district after his work place shut down owing to lockdown. It took him 12 hours to cover the distance of 54 kilometres.
The long-walk home gave Manoj A Mathew a realistic picture of social distancing. Though he tried to hitch a ride along the way, none of the vehicles stopped for him. While some of the bike riders were wary of the police, others suspected that Manoj could be an infected person. The cargo lorries did not stop for Manoj either.
Without no tea shops open enroute to Kottayam, he had to make do with the bananas and soda he carried along.
On reaching Ettumanoor, an exhausted Manoj rang up his friend Sabu .
Manoj, a native of Meenadom in Kottayam, is a skilled worker at the Traco Cables in Kochi. He mostly travels to work and returns home daily. He occasionally stayed at the company quarters. However, after the lockdown was announced, the company, quarters and even the canteen were shut.
With the public transport service suspended and no vehicle of his own, Manoj was at a loss on how to reach his home. He also did not have sufficient money to hire a cab. It was not feasible for him to continue his stay in Kochi.
Manoj then decided to walk. He began his journey by 9am on Wednesday. He reached Ettumanoor by 7pm.
As his friend Sabu was coming to pick up Manoj on his bike, the police stopped him. However, the police allowed him to proceed after coming to know of Manoj's plight.
Manoj was exhausted after walking for hours under the blistering sun. There were bruises on his legs.
However, Manoj is relieved to have finally reached his home.
His wife and two children live at Meenadom.