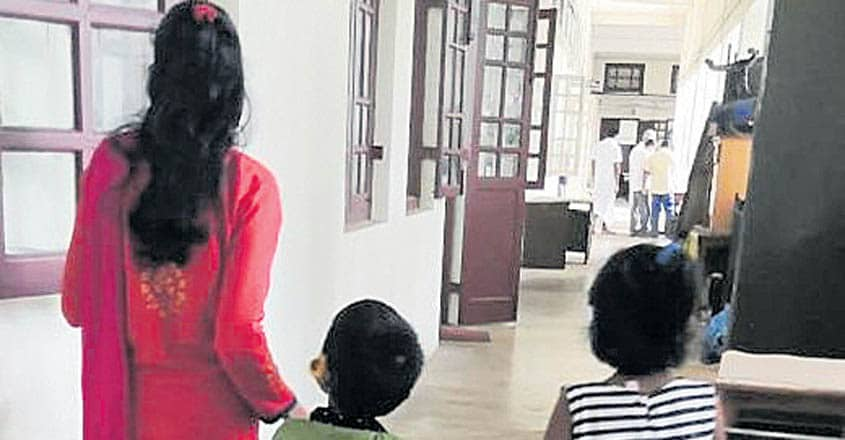 Kottayam: Raging COVID-19 pandemic has frightened people world over to such a level that the proximity of even one's near and dear is feared. A 38-year-old woman, with her two children in tow, had to run from pillar to post for a safe shelter in Kottayam town on Thursday as soon she completed her quarantine as her husband's family and her own kin refused to let her into their homes. She was  stranded for eight hours with her children, a seven-year-old girl and four-year-old boy, the whole day and finally they were given accommodation after the intervention of an NGO and government authorities.

The woman, a nurse, had returned to Kerala from Bengaluru two weeks ago and, as is mandated in light of the pandemic, soon entered into a quarantine facility.  

She was accompanied by her children from Bengaluru and all three were quarantined for two weeks at a facility at Pala. As soon as the quarantine period got over, she informed her husband. Thereafter their ordeal began.

Her husband turned up at the Pala centre on Thursday morning. But instead of taking them to his house at Karumalloor in Paravur Taluk of neighbouring Ernakulam district, he dropped them off near her house at Nazareth Hill at Kuravilangad in Kottayam district. As she found the house locked up, she tried calling her mother over the phone, but could not reach her. Though she telephoned her brother in Bengaluru, he reportedly asked her to stay away from the family.

As she had no other option, the woman called up Annie Babu, the director of an NGO named Santhwanam.  Annie met the Kottayam District Collector and informed him about the woman's plight. The Collector asked the social welfare officer to take the necessary action. But the woman was informed that further steps will be taken after consulting with the police

Though the woman and children have been given temporary accommodation after the NGO intervened, she is clueless about her future.

My mother had earlier told me that I can stay with her after the quarantine period, the helpless woman said.

As the woman did not even have money to buy food for herself and the children, Annie once again came to her help.

They are now staying at the COVID care centre at Kalathipady, on the outskirts of Kottayam town. They had reached there by 5pm on Thursday after a day-long ordeal.