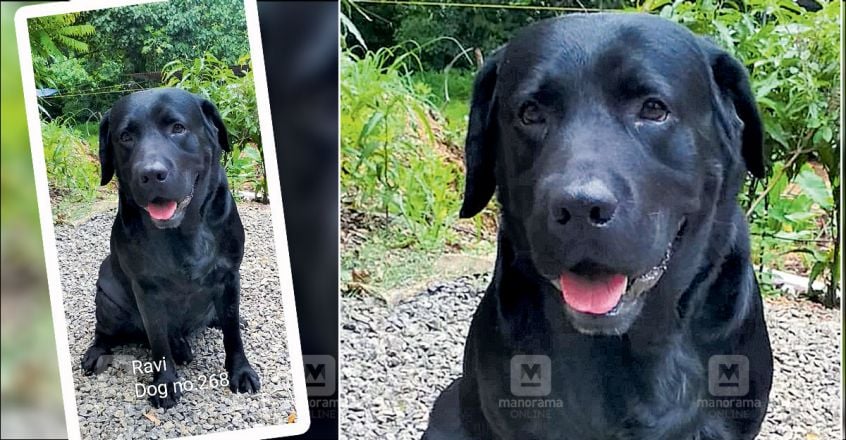 Vaikkom: A police dog has helped track down a man who had gone missing from his home in Vaikkom in Kerala's Kottayam district.
The 40-year-old person had gone missing on the night of July 20 from his home in Vallakam. Ravi, a labrador from the Kottayam dog squad, helped find the person the next day.
The person who had left home in the morning for work did not return home on July 20. His relatives searched the nearby areas and found his bike and mobile phone.
The police sought the help of the dog squad in the belief that the person wouldn't have gone too far away from home.
As per the instructions of the unit in charge Premji, Civil Police Officers Sunil Kumar and Bittu Mohan reached the spot with Ravi on July 21 afternoon.
Ravi smelt the helmet that was kept on the bike and ran towards a vacant, dilapidated and crumbling building about 300 metres away. It stood near a well in front of a house and started barking.
But, the squad members assumed the house had inhabitants after they saw wet clothes hung out to dry on a clothesline. They directed the dog to inspect the nearby areas and returned.
However, later in the day, a nearby resident noticed movements behind the house. Upon reaching there, he traced the source of the sound and found the missing youth.
He was tired and exhausted due to lack of food and water. He was admitted to a private hospital and later shifted to his home. It is yet to be known why he didn't return home.
Earlier find
Five-year-old Ravi was instrumental in solving a gold theft case at Chalukunnu in Kottayam three years ago.
After sniffing the box from which the ornament went missing, Ravi ran to the woman standing nearby and barked continuously.
The woman, who was a member of the family, later confessed to the theft during questioning.
Ravi is the sibling of another police dog, named Julie, that died a few days ago.