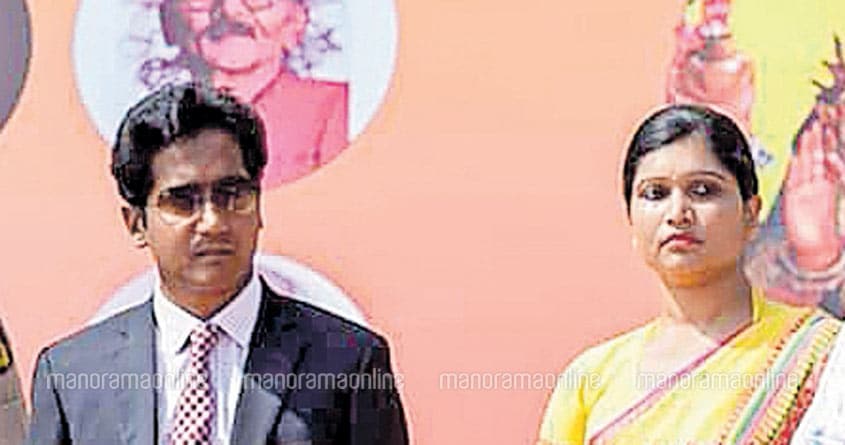 Kozhikode: Valentine's Day is a time to celebrate love, so what better way to do that than marrying the love of your life?
On Wednesday as the whole world got into the lovey-dovey mood, an IAS couple entered into wedlock at the Tagore Centenary Hall here, keeping high the spirit of the most romantic day of the year.
Aswathi Seluraj, a native of Chevayur in Kozhikode married Davangere district collector Bagadi Gautham in a simple ceremony attended by their families and friends. Aswathi is currently serving as the chief executive officer of the Davangere district panchayat in Karnataka. Both are IAS officers. 
Aswathi, who oversees the functioning of 29 departments under the district panchayat including health, sanitation and education, has played a key role in transforming Davangere, one of the most backward and drought-prone regions in Karnataka. The project aimed at providing 22 litres of drinking water daily to each household in the district was Aswathi's brainchild.
She grabbed headlines after former Karnataka chief minister Siddaramaiah lauded her efforts in getting the district on the path of progress.
Gautham, who hails from Visakhapatnam in Andhra, was Aswathi's senior at the Civil Services Academy. He belongs to the 2009 IAS batch while Aswathi is a 2013 batch officer. It was four years ago that the two decided to spend the rest of their lives together.
Aswathi's father T B Seluraj, a lawyer by profession, has written many books chronicling Kozhikode's history and culture. His third book on the subject will be released soon. Aswathi's mother Pushpa Seluraj recently retired as a deputy commissioner of the Sales Tax Department. Vaishakh is her brother.
It was Aswathi's father who came up with the idea of conducting the wedding on Valentine's Day.