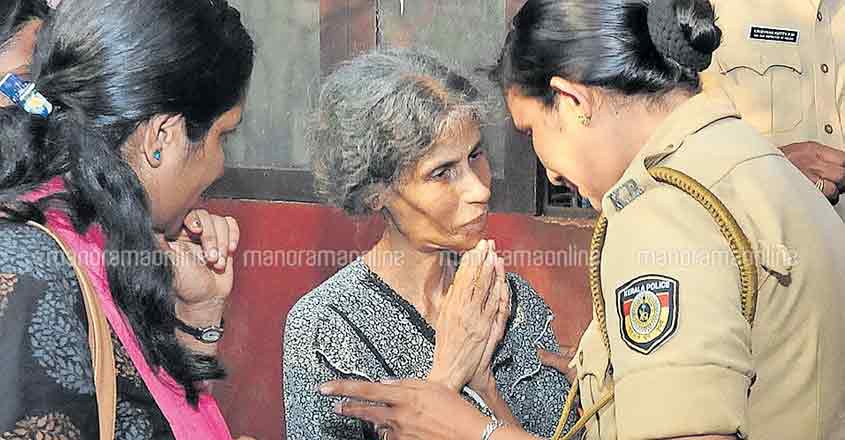 Kozhikode: An elderly woman, who had been locked up inside the house and maltreated by her sister, was rescued by the Kerala Social Security Mission (KSSM) with the help of police after being informed by the neighbours.
Vijaya Grace, residing at Shobhalayam at Chakkittayida, Eranjippalam, was shifted to the Short Stay Home at Vellimadukunnu at the initiative of Vayomithram, a KSSM project. Vayomithram coordinator K.Sandhya organised the transfer.
Rural Health Mission Nurse P Manju had informed the agency following complaints by the local residents association that Vijaya was being mistreated and locked up inside the house by her sister Sicily Abraham, a retired Army Nurse.
The sisters were leading a solitary life inside the house. There were also three dogs and around 15 cats inside the house as well.
When the Vayomithram team had arrived by breaking opening the gate with the help of the residents association office bearers and the local people, Sicily had gone out after giving food to Vijaya on a piece of paper spread out on the floor. The house was also locked up. Vijaya had become emaciated due to malnourishment lasting months. She also said that she was being beaten up, and could not even talk properly. She was wearing tattered clothes.
Though the neighbours used to hear Vijaya's screams when getting beaten up, they could not intervene as Sicily used to shower abuses at them. Around three complaints have already been lodged with the police regarding this earlier.
Sicily, who returned hurled abuses at the Vayomithram team, the neighbours and the mediapersons. She had also tried to attack them, following which Nadakkavu Police was summoned. Though the police team including SI Mahesh Kandambath, P.P.Krishnankutty and P.P. Siji tried to pacify her, Sicily continued shouting at them.
Later, the Vayomithram team managed to get Vijaya into the vehicle with police assistance and she was taken to the Short Stay Home at Vellimadukunnu. She will be examined by the doctor today.
Sicily will also be examined to ascertain her mental stability, following which suitable action would be taken.