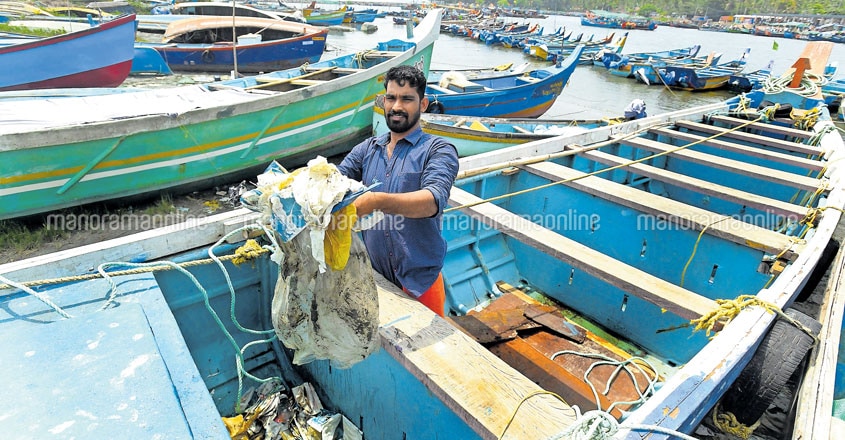 Kozhikode: As K V Priyesh returns to the shores at the end of a hard day battling the waves out in the deep sea, he would be holding on to two different packets - one would be full of fish, the other garbage!
"Are you mad?" Is a question that greets Priyesh on his return with the dual catch, but the youth nods in reply and heads home. "Is being in love with the sea termed crazy, then I am," is his reply to the naysayers.
The garbage collected from the sea would be cleansed and handed over to the Haritha Karma Sena.
Priyesh's love for the waters is helping to clean up the sea and shores in the 5-km radius of Azhiyur panchayat in Kerala's Kozhikode district. However, it occurred to Pratheesh that his lone efforts would not be enough and sought the help of the panchayat last year.
Panchayat president Reena Rayaroth and secretary T Shahul Hameed backed Priyesh on his mission. They have been working to clean up areas from Poozhithala to Chombala coasts over the past several days. They collected 13.5 tonnes of plastic waste, along with 10 loads of liquor bottles. The panchayat, that owns a plastic shredding unit, shreds around 40,000kg plastic in a year and sends them to Clean Kerala company. The plastic collected by Priyesh is also brought here.
Priyesh awakened to the harmful effects of plastic while he turned up to study for a class 10-equivalent exam.
Priyesh's trysts with the sea
About three years ago, Priyesh, who went out for fishing when the trawling ban was in effect, went missing. His dear and near ones feared the worst. However, on the third day, Coast Guard and other fishermen rescued Priyesh and brought him home. This time around during the trawling ban, Priyesh's fibre boat is hitting the waters as part of the fisheries department's rescue boat.
After Cyclone Ockhi hit Kerala, Priyesh came to know from Coast Guard that dead bodies were floating towards the northern coast. He then sailed away alone and returned three days with the body of a Thiruvananthapuram native.
During the 2018 floods too, Priyesh joined the rescue operations on his boat for three days in Thrissur's Chalakudy and was given Rs 15,000 by the government. However, he donated that money to the Chief Ministers' Disaster Relief Fund.
Bottled grief
As the water in Chombala shores is salty, the fisherman takes bottled water along with them to the sea. Priyesh is now concerned about these bottles that are dumped in the sea. He has now sought the help of panchayat to solve the water scarcity.