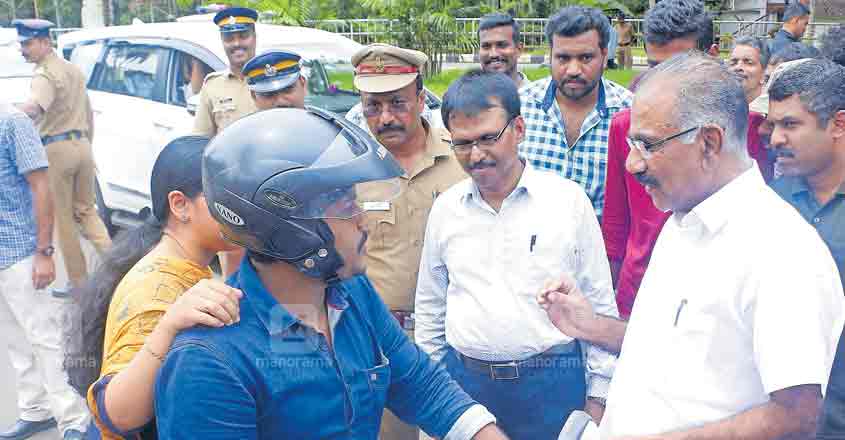 Kozhikode: A lawmaker should set an example by following rules rather than flouting them. Karat Razak, the Koduvally MLA, got road safety lessons from none other than Kerala Transport Minister A K Saseendran the other day during a special campaign.
The minister was at the Mundikalthazham Junction, along the Kozhikode bypass, to monitor an inspection carried out by various departments and the police as part of the road safety action plan.
The minister, who reached by 11 am on Monday, signalled several vehicles to stop for checking for around 20 minutes. Those, who came without wearing seat belts or helmets, were given a warning and let off. During this time, the MLA's car too turned up. And right on the front seat, sat the MLA and that too without wearing the seat belt.
The MLA got out of the vehicle with a sheepish smile as cameras clicked away. He went up to the minister and made some light conversation. The minister explained to him about the safety drive.
Back in his vehicle, the MLA wore the safety belt with some help from his driver.
The team of officials led by the minister also stopped those two-wheelers in which pillion riders were not wearing the helmets. They were also warned that the rules have to be strictly followed lest fines will be imposed.
A couple was left speechless after the minister asked the man: "Only you need safety? What about your wife?"
Checks till Aug 31
Special drives would be held till Wednesday to catch hold of those who are not wearing the seat belts.
Illegal parking would be checked from August 8 to 10, speeding from August 11 to 13 and drunk driving and lane traffic would be watched from August 14 to 16. Those using the phone while driving will be under the scanner from August 17 to 19. Drivers ignoring the zebra crossing or jumping the red signal will be under scrutiny from August 20 to 23.
A tab will be on overloaded vehicles from August 24 to 27 and use of film and music system will be under the scanner from August 28 to 31.
Deputy transport commissioner T C Vineesh, Kozhikode RTO M P Subhash Babu, and enforcement RTO Shabeer led the inspections.