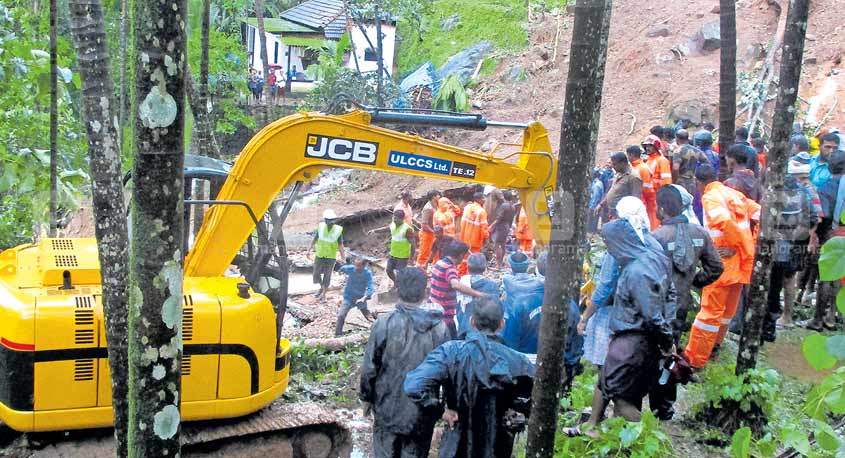 Nadapuram: With incessant rains fear had gripped the residents close to the banks of Vanimelpuzha here in Kerala's Kozhikode district. The local residents expected a landslide when the Vanimelpuzha turned ferocious on Thursday night and by midnight a huge landslide occurred at Alimoola, 2 km from Vilangad. Four lives were lost as they were buried in the sliding mud and boulders. More casualties could be prevented only because of quick intervention and rescue efforts.
It was a miracle that so many were saved since houses here were buried in rock and mud. Acres of farm lands were under slimy earth. Roads were destroyed, making the house of Benny, who died in the mishap, and many others' inaccessible. Many hours were spent cutting a path towards these areas using earthmovers. A drilling machine was used to break the slab to rescue people from Benny's house, but he was found dead.
Houses of Vadakkunnel Jose, Karikkunnel Thomas, Ponmalakkunnel Pappachan, Kochu Manikkaparambil Jibi, Kuzhiyam Plakkal Appachan and Mayiladikkuzhiyil Martin were completely destroyed. Their vehicles too were wrecked. Blackout and breakdown of communication systems made matters worse.
People poured in from all directions as news broke. Roads in the Vilangad market were strewn with rocks from the landslide. In Alimoola, a narrow strip of the road remained, wide enough only for bikes.
Rain remained strong even after the landslide. Shops in the locals markets remained closed as rocks filled the road.
A relief camp was opened in the parish hall.
Narrow escape
Martin of Mailakkuzhi, Vilangad, had left for the Middle East the other day after securing a job. His wife Jyotsna, her mother and his two-year-old girl Alphonsa were lucky as they had left the house at Alinmoola by 6 pm on Thursday to shift to her native place in Malayankatt. The vacated house was buried in the landslide on Thursday night.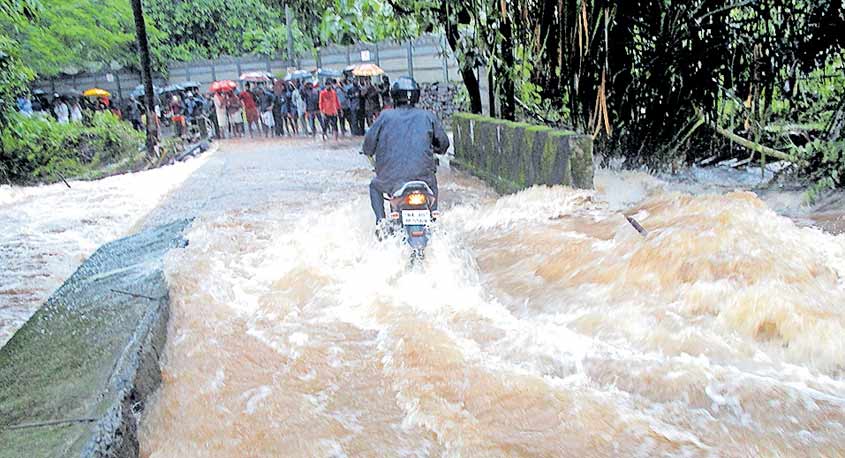 Meanwhile, Dasan was found standing in neck-deep sludge as rescuers reached him. Though he said his wife Lissy was somewhere nearby, her body was later found many metres away. Locals, including drivers, led the team that found Dasan alive. He was admitted to the hospital where his condition is improving.
Prompt rescue
Though police and fire force reached the disaster spot by 6 am, they were stuck at Vilangad town. Many were rescued by a team led by ward member Raju Alex.
Many were rescued from damaged houses around midnight by locals. The fire force, police, volunteer groups including that of Ooralunkal Labour Contract Society and locals risked their lives to save those in trouble. Workers at Karukulam Compressor Unit, trauma care volunteers from Kozhikode, saw mill workers at Vilangad town and BSF men joined rescue efforts. A fire force unit from Vadakara and Chelakkad led by station officer CK Vasam also reached the spot.
A delegation including K Muralidharan MP, EK Vijayan MLA, RDO V Abdurahman and policemen led by DYSP G Sabu had reached the spot. Panchayat presidents AK Narayani, OC Jayan, Block Panchayat president CH Balakrishnan, district panchayat member TK Rajan, KPCC secretary K Praveen Kumar, DCC General Secretary CV Kunjikrishnan, CPM area secretary PP Chathu, Muslim League area general secretary NK Musa, CPI secretary P Gavas, T Surendran, other politicians and officers too reached the area.
Police Assistant Commissioner Prajeesh Thottathil, DYSP G Sabu, Valayalm Inspector AV John, Kuttyadi Inspector N Sunil Kumar, SI RC Biju, control room officers, Youth League national general secretary CK Subair and national member CVM Vanimel too joined the rescue team.