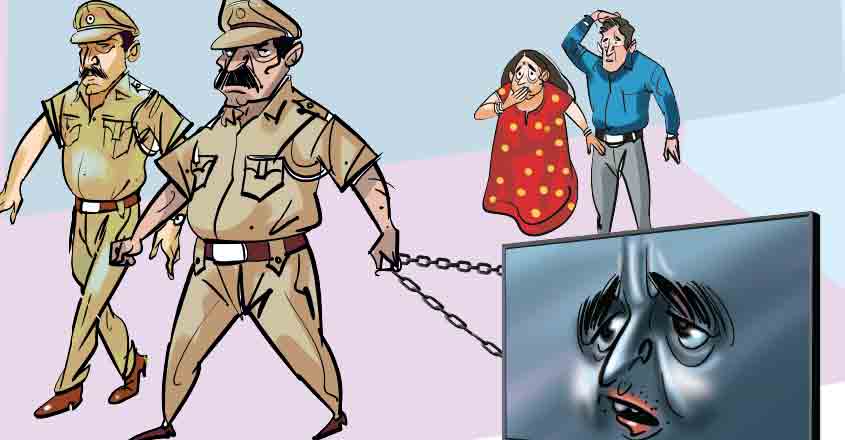 Kozhikode: Technology is a double-edged sword and its increasing use in various walks of life has made life easier though there are some concerns.
A Keralite working abroad was in for shock recently as nude videos of his wife landed on his WhatsApp account.
The video was of his wife changing her attire at their bedroom back home in Kerala. The family were clueless as to how someone could take videos using hidden camera at their house. Both the wife and other family members vouched that no outsider had been to the house. A complaint was then filed with the cybercell and the cops could promptly nab the miscreants, who circulated the video, from abroad.
But the cops couldn't find out who placed the camera in the bedroom. The probe then focussed on the position of the camera and the angle at which the video was shot.
The police, who zeroed in on the villain, were baffled. The television placed on the bedroom wall had recorded the video.
When the man had come home for vacation, he had replaced an LED TV with an Android TV. The woman had logged into it and held video chats with her husband via Skype. Though the television's screen was off, the camera continued to operate. The family was unaware of this.
Some people, who hacked into her husband's computer in the foreign country, came across the TV recording.
Be wary of your gadget
As many as 200 cybercrimes were reported in the last one month in Kerala. Cases such as circulating nude photos and financial frauds by seeking OTP numbers are on the rise.
In view of the unscrupulous methods through which cybercrimes are perpetrated, the police have warned the netizens to be wary of their gadgets. Select cops at various police stations were also given a special three-day training on cybercrimes.
Experts even pointed out that users should ensure that power supply to such gadgets with internet connection is completely cut off when not in use. Even if the internet connection of the phone is switched off, it is possible to track down where a person went, where he or she had food from and so on, they said.
Most people are not aware as to how they fall victims to cybercrime. Many often people do not notice that most apps seek permission to get access to the files on the phones while installing. While downloading an app on installing torch light on the phone, the user noticed that it was seeking access to the gallery of photos and videos. A probe by the cyberpolice revealed that the app was just a tool to leak information.