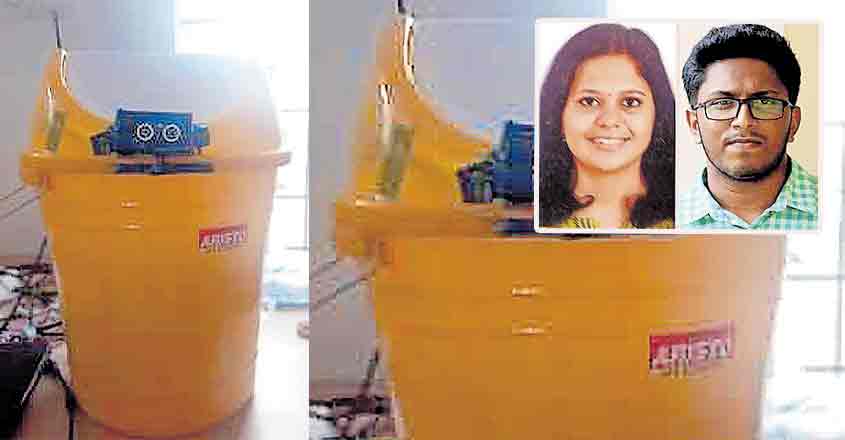 Kumaranallur: Solid waste management is a challenge for civic authorities worldwide. Collection and disposal bring with them their own unique challenges even as several areas still lack formal mechanism for waste clearance.
At a time when each city is grappling with the problem of waste management, two engineering students have come out with a novel idea to collect garbage without any hassles. Sneha, hailing from Kumaranallur in Kozhikode district and Malappuram-native S Adwaidh, both B Tech students of the Central University of Karnataka, Kalaburagi, have developed a censor-fitted smart container to collect garbage.
These bins with censors will provide information regarding the quantity of junk in each container and where the drums are located to workers and officials. This data will help in avoiding instances of containers overflowing with waste and polluting the area.
The students thought of developing such smart containers as there were pitfalls in disposing waste though there was a system to collect garbage. The overflowing garbage bins, which are not cleared on time, also raises serious health issues to people in the vicinity. The workers will get information on their cell phones about the containers that are brimming with waste, and they don't have to physically check every bin.
And if the garbage is not cleared within 40 minutes of getting the information, the message will be automatically forwarded to higher authorities. The smart garbage bins work with the help of GPS and Google Mobile Services (GMS). It was developed under the guidance of V Sandeep of the Electrical and Electronics Department of the University.
Sneha and Adwaidh hope that the smart garbage bins would be part of the nation-wide 'Swacch Bharat Abhiyan' of the central government.
"We had a word with the director of the 'Swacch Bharat Abhiyan' mission over phone regarding the new devices," Sneha said.