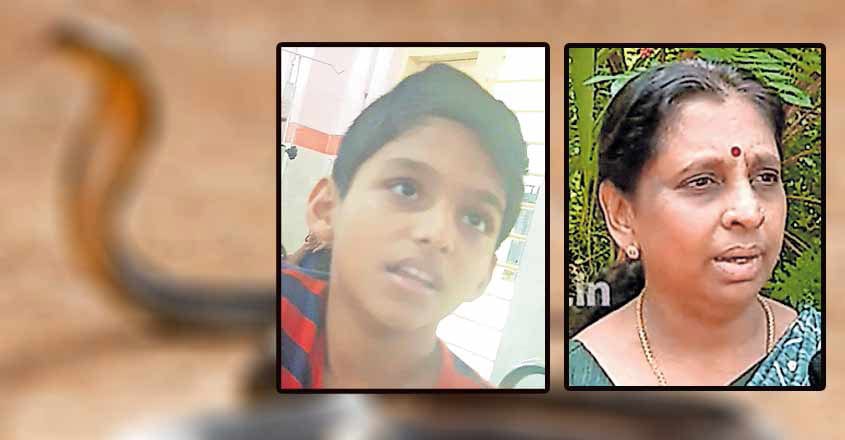 Kozhikode: If negligence of teachers led to the death of student Shehla Sherin in Sultan Bathery recently, another snakebite victim in Kozhikode is thanking his teachers for saving his life.
It was timely intervention of teachers that saved the life of Hrithik, a Class-5 student of the Government Higher Secondary School, Kuttikkattoor. Hrithik was on his way to the school when he felt that something hit his leg. Hritik's friend Gautam didn't ignore it and told their teacher Gopakumar about this. An alert Gopakumar took the child to the headmistress and explained what had happened.
They examined Hrithik and found a small injury mark on his leg. Immediately, on the directions of headmistress V A Asha, Gopakumar along with senior assistant Rajeev took Hrithik to a private hospital. The doctor who suspected a snakebite during his examination of the injury told them to immediately take the boy to the Medical College Hospital (MCH).
Hrithik was soon rushed to the MCH, where he was admitted to the ICU and emergency tests were carried out. In the initial tests, the doctors could not spot anything wrong but when the blood was tested again, they found the presence of venom and confirmed it was a snakebite.
Subsequently, he was given the required medicines and necessary care. On his recovery, Hrithik was discharged from the hospital on Sunday.
Hrithik's mother was profuse in her appreciation of the teachers who did not wait for the family members to arrive to take the child to the hospital. She also thanked doctors who attended to her son.
Headmistress Asha said that such incidents are common in the school and they follow a similar procedure always. "Even if the injury is small or big, our priority is to take the child to the hospital first. Everybody is our school shoulders this responsibility without any special directive," she said.
Last week, Shehala Sherin, a 10-year-old girl student of the Government Sarvajana Higher Secondary School at Sulthan Bathery in Kerala's Wayanad district, died after snakebite in the classroom. She couldn't be provided emergency medical care as the school authorities didn't rush her to the hospital on time.