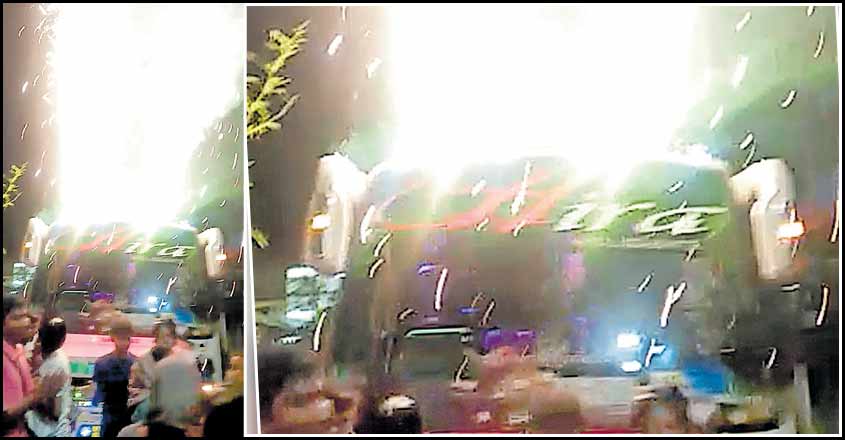 Kozhikode: Gross violation of Motor Vehicle Rules involving tourist buses are now being reported regularly from various parts of Kerala. In the latest such incident, crackers were lighted on top of a bus hired for a school excursion.
Plus-two students of Thamarassery Govt Higher Secondary School had gone on an excursion to Mysuru in the bus 'Hira holidays' owned by K C Yunus of Kaithapoyil. During the trip, crackers were lighted on top of the bus at Coorg. When visuals of the dangerous prank were circulated in social media, the Motor Vehicles Department (MVD) took note and launched action.
MVD officials soon seized the bus and when the interiors were examined, they were in for a shock. There were several violations inside the vehicle, including a disconnected speed governor and unauthorized light and sound systems. Officials immediately cancelled the fitness certificate of the bus and suspended the driver's licence.
Meanwhile, school principal Bindu V George claimed that neither teachers nor the students had a role in the incident. She said that when four students in the excursion team decided to cut a cake on a friend's birthday, the employees of the bus had lighted the crackers on top of the vehicle to add glitz to the celebration.
Minister firm on crackdown
Taking note of the violations, Transport Minister A K Saseendran said that checks on tourist buses would be intensified. "Such celebrations should never take place in a civilized society," he said.
"It is unfortunate that certain bus associations have opposed the government's action against the violators. However, other associations have informed that they would cooperate with the officials. We have made it clear to the bus operators that no leniency would be shown to law-breakers," said the Minister.