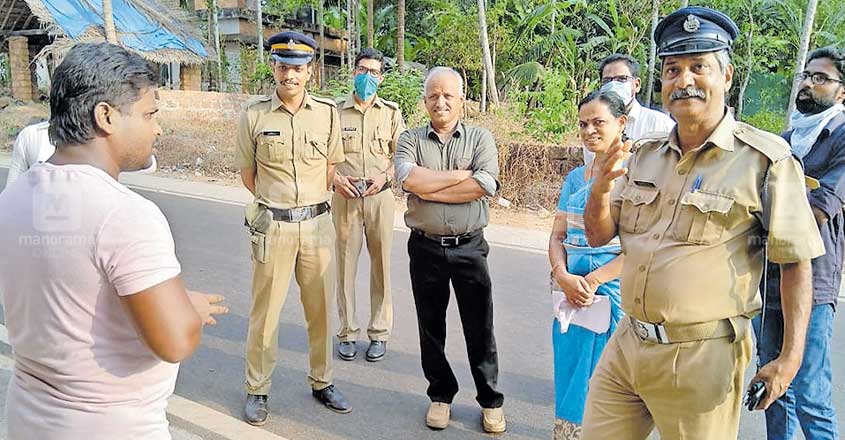 Meppayur: The Kerala cop, who won accolades for creating awareness among migrant workers in Kozhikode in fluent Hindi during the COVID-19 lockdown, has been set a new task.
Home guard Karunakaran has been made a special representative in the task force formed to create awareness among migrant workers and resolve their problems.
Apart from Malayalam, Karunakaran is fluent in Hindi, Bengali, Tamil, Kannada and Telugu. The language skills and his dedication towards the job would aid him in his new task.
A video of Karunakaran, talking to migrant workers in Hindi on following the lockdown regulations, had gone viral on social media. Karunakaran belongs to the Meppayur police station in Kozhikode.
Minister T P Ramakrishnan, Youth Congress state president Shafi Parambil MLA, Ernakulam Collector S Suhas, and rural district police chief A Sreenivas also called up the cop and congratulated him.
Malayalam actress Manju Warrier too rang up the cop and praised his efforts.
"You are a big asset for the police force. I would definitely come and visit your family when I am in Kozhikode next," the actress said.
Civil police officer Ashraf Chirakara had shot the video of Karunakaran talking to the north Indian workers, staying at the Salman Building in Kozhikode city, about COVID-19 precautions in Hindi.
Based on the Vadakara rural SP's order, circle inspector G Anoop had tasked Karunakaran to educate the migrant workers about the virus spread.
Along with police officer Riyas Ahamed, food kits were also distributed among the migrant workers staying at the camps of Kozhukallur village.
A native of Nochad in the district, Karunakaran has been serving in the police force and fire force for the past 10 years. He had also worked as recovery mechanic in the engineering wing of the Army for 22 years.