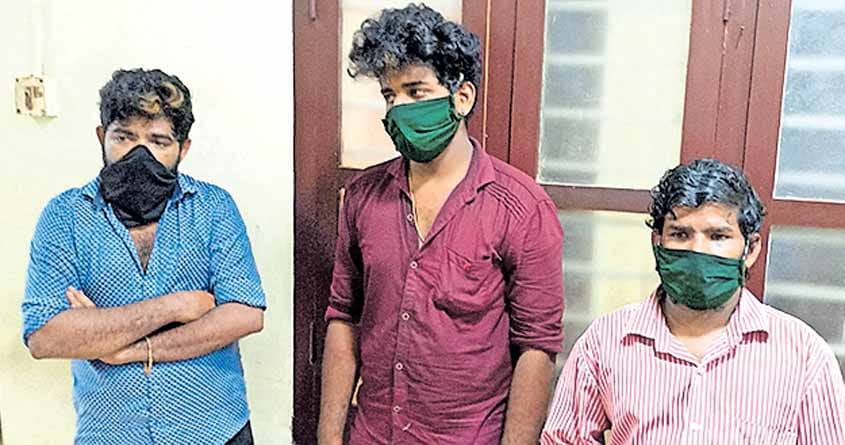 Vadakara: How do you plan to elope with your loved one in the time of COVID-19 lockdown? According to these three youngsters, eloping in ambulance is the best option.
On Tuesday, the police arrested Thiruvananthapuram native Shivajith, 22, of Unni Cottage at Kizhivilam near Manvila and two of his friends - Sabeesh, 48, of Sajith Nivas in Aramada and Unni Alphonse, 29, of fishermen colony in Cheriyathura - for defying lockdown measures and misusing the ambulance at Kooriyadi in Kozhikode. They came all the way from Thiruvananthapuram to Vadakara in Kozhikode district to 'take the hand' of Shivajith's lover in an ambulance on the pretext of taking a patient to a hospital in state capital.
According to the police, Shivajith had befriended a girl from Vadakara through social media site Instagram. He took the drastic step as his girlfriend requested him to come to her native place and take her away immediately.
The gang arrived in Vadakara on the wee hours of Tuesday. People, who saw them washing the ambulance in a Canal near the Kuttooli Bridge in Mangattupara, informed the police. When the police arrived, they said they could not contact the patient as the call did not connect. The police, believing them, let off the gang.
However, later in the day, the ambulance was seen roaming around Kuriyadi area. The locals, who became suspicious of their movements, stopped them and questioned. But they could not give any convincing answer.
Seeing this, Revenue officials, who were passing through locality, informed police about the incident.
On detailed questioning, the gang revealed that they planned to abduct Sivajith's girlfriend. Owner of the ambulance informed the police that the vehicle was taken away by a person who came to replace the driver of the ambulance, who was on leave.
The permit of the ambulance will be cancelled.