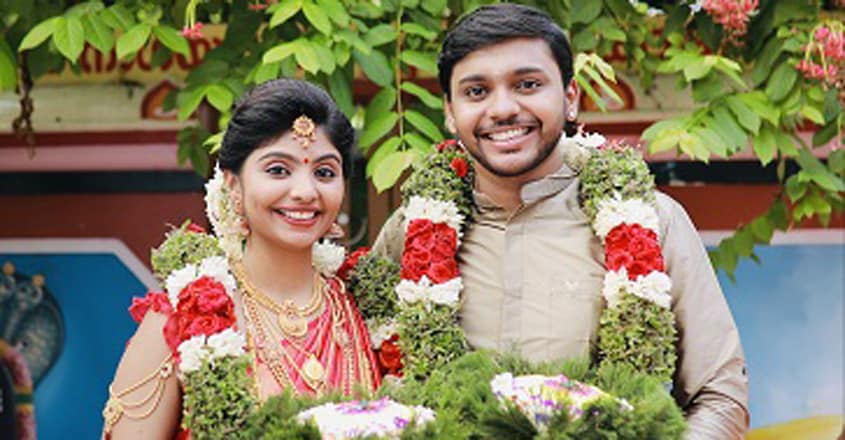 Kozhikode: Mumbai resident Hetal Modi came down to Kerala for her wedding. But ended up being in quarantine at the groom's house for 1.5 months.
At the end of the long wait, imposed by the COVID-19 lockdown, Kozhikode native Ujjwal Raj tied the knot to Hetal Modi on Friday in a low-key ceremony.
Wedding in the time of COVID-19
Ujwal, son of Rajan and Anitha Rajan, works at a private company in Australia, while Hetal is the IT manager at a private firm in Mumbai. They met and fell in love while pursuing their higher studies in UK during 2015-16.
They had decided to get married at the Hill Top auditorium at Purakkattiri on April 5. Thousand-odd people were also invited to the wedding.
Ujwal had planned to come to Kerala one week before the wedding. However, fears of COVID-19 pandemic began to spread by early March.
Ujwal then rescheduled his leaves, so that he will be free to move around at least five days before the wedding. Thus, Ujwal reached home on March 17. He informed the health department authorities and was under put home quarantine.
The healthcare workers also said that the bride, coming from Mumbai, too will have to undergo the 14-day quarantine period. Hetal too then planned her journey such that her quarantine period ended on the day before her wedding.
Hetal and her mother Chetana Modi reached Kozhikode on March 23. However, the nationwide lockdown was imposed on March 24. Thus, the mother-daughter had to be in quarantine at Ujwal's house.
The healthcare personnel later told Ujwal that since he had come from abroad, he would have to be in quarantine for 28 days instead of 14.
Finally, with just 15 people in attendance, Ujwal married Hetal in the simple ceremony around 8am on Friday.
Ceremonies such as haldi were also held with just six people on the wedding eve. Ujwal's sister Jwalna applied mehndi for Hetal.
Ujwal had also made arrangements for his dear and near ones to watch the ceremony. He sent them the id and password to take part in the zoom video conferencing. If it had been a normal day, his friends in the UK and Australia would not have been able to attend the wedding. But all of them were able to watch the ceremony via video-conferencing due to the lockdown. Ujwal's eighty-year-old grandmother is also elated to have seen her grandson's wedding on a laptop.
Ujjwal said that both families have gelled well after their long stay together in Kerala. Hetal and her mother also have developed a great liking for Kerala cuisine.