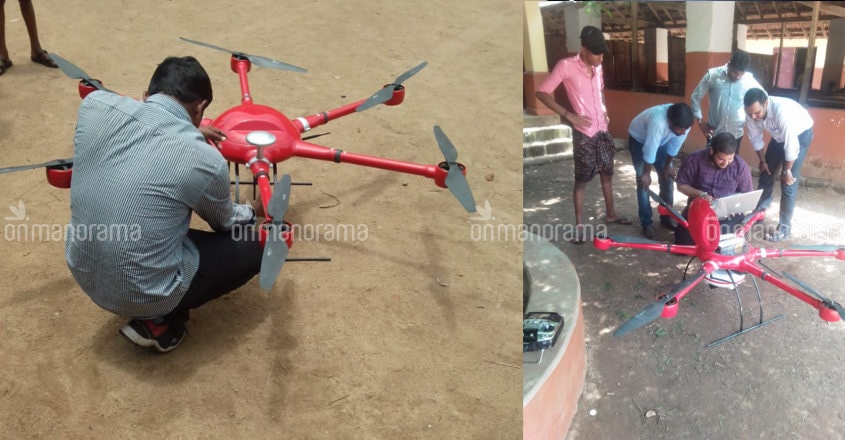 Kozhikode: After the devastating August floods in Kerala, the Ponani constituency in Malappuram district is using drones and apps to assess the magnitude of the calamity.
The survey has been taken up at the behest of P Sreeramakrishnan, Assembly speaker and Ponnani MLA. The data will be used for future reference, especially for disaster mitigation planning and rehabilitation efforts.
The Speaker had sought a comprehensive database on the devastation in a geophysical area. Methods like door-to-door field survey by global positioning system (GPS), drone-based aerial survey (penetration scaled up to 4 cm) and differential GPS (DGPS) rectification. DGPS is an enhancement over GPS.
The data generated will help in insightful rehabilitation, predictive analysis, and course correction.
"Satellites have a shortcoming here. The penetration is only up to 5 m. In drone- based aerial surveys, the scaling is below 4 cm and it can be 'rectified' up to 3 mm using DGPS," says policy analyst PV Yasir.
The cost of the survey, Rs 5 lakh, was jointly met by the Ponnani municipality and the Uralunkal Labour Contract Cooperative Service Society (ULCCS).
Interpretation, data mining, indexing and other intellectual and socio-scientific enhancement was provided by Alhambricks Knowledge Endowment. Infosys too offered support. The base station for the project is the Civil Service Academy (Institute of Career Studies and Research), Ponnani.
Twenty-six volunteers from MES Engineering College, Kuttippuram helped in the survey. Queries have come from the Aranmula constituency after the successful mapping in Ponnani where 40 sq km have been covered in the exercise initiated on August 22. The drone was in action from August 24.