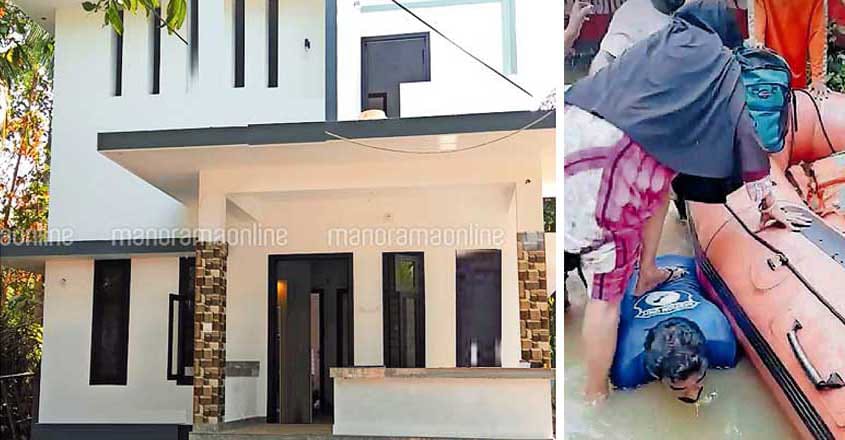 Malappuram: Several real heroes emerged during last year's floods across Kerala. Of them, Jaisal, who offered his back for several women and children to step on to get into a rescue boat, will be given a brand new house today by a youth organisation of the Sunni Muslim community.
The Malappuram district committee of the Sunni Yuvajana Sangham (SYS) built the 1,100 sqft, two-storey house for Jaisal in seven months. Its key will be handed over at an event on Aavil shore at Parappanangadi at 7 pm today.
Sunni Jamiyyathul Ulama general secretary AP Aboobacker Musaliyar initiated the work on Jaisal's house on September 13. SYS's non-resident wing ICF too chipped in for the Rs 16 lakh project.
Jaisal, a fisherman and trauma-care volunteer based in Parappanangadi, was actively involved in rescue operations in Muthalamadu, Vengara, last August as floods submerged the area along with vast parts of the state. A team of volunteers from the agency named Trauma Care was engaged along with him.
The video of him kneeling down to help women and children to step on to boats had gone viral. Jaisal was hailed by thousands on social media for his near back-breaking act while engaged in rescue operations. One of those rescued at a place called Swagathamadu had shot Jaisal's act and posted it on WhatsApp.
Jaisal and his 10-member team had reached the marooned spots in Vengara after taking boats on rent. They were specially called by the locals to the rescue operations.
His team had rescued more than 250 people and recovered 10 bodies.
Jaisal family consists of wife Jaseera and children Jirwan, Rifamol and Jubimol. Jaisal, who is trained in karate and taekwondo, joined as a volunteer of Trauma Care in 2002 in Kozhikode.