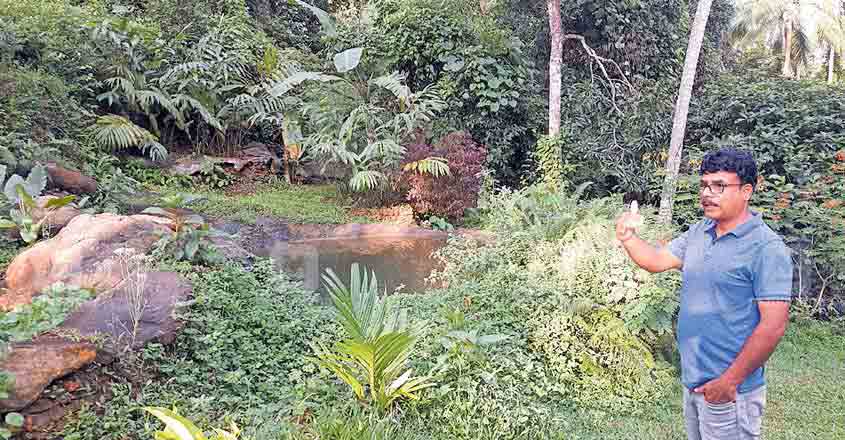 Kondotty: Adverse weather conditions and water scarcity have taught all of us a hard lesson on the need to secure our environment. Wanton destruction of natural features and pollution all around have made life miserable, even though a few wage a battle to improve the nature around. A laterite quarry near Karipur in Kerala's Malappuram district was rendered literally useless after it was exhausted of its resources. A restoration bid carried out by farmer P A Mustafa has transformed it into a grove.
Mustafa planted even fully-grown trees, even the banyan, on this land. Huge trees were brought in from various parts of Kerala and even from Andhra Pradesh on lorries. Around 300 flowering plants and 200 fruit-bearing plants were also planted. Some of these plants are from abroad.
As many as five ponds were also dug on the plot. One of the ponds is exclusively for birds and other creatures and humans are barred from going there.
A small stream was restructured to form a waterfall. A separate garden was also set up for the butterflies.
He also built a narrow path using stones and rocks.
Ther conservationist's efforts, though, came at a price. He had to shell out more than Rs 50 lakh. To create this green land, Mustafa had to sell off two of his plots.
Mustafa had brought the barren quarry land about four years ago. He also bought another two acres of land, adjacent to the quarry. He is protecting that land as well.
He does not use cement, but instead relies on natural materials. He has sought the advice and instruction of several experts and nature lovers.
Mustafa next plans to build small huts for those who turn up to visit his forest. He also plans to set up a small space for those in the literary field as well.
He aims to complete his dream project within a year.