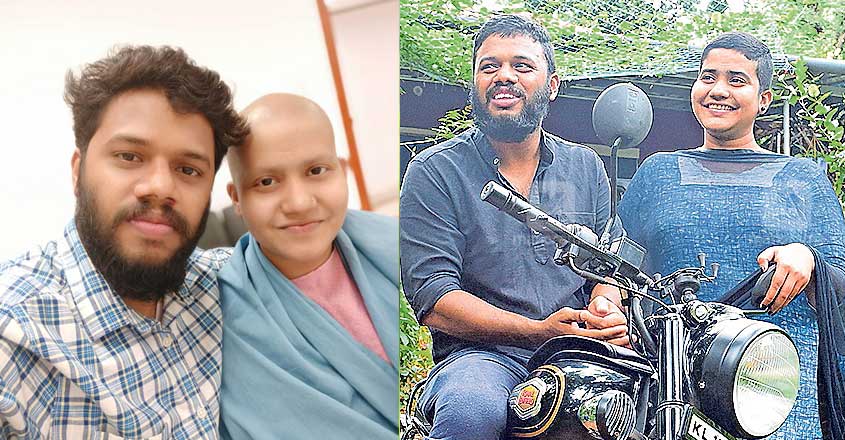 Pothukallu, Malappuram: Sachin Kumar of Poolappadam in Kerala's Malappuram district is set to sell his bike to find funds for contributing to the Chief Minister's Disaster Relief Fund. But that bike is not merely a two-wheeler for Sachin and his wife Bhavya. It was gifted to them by their relatives for the easy travel for Bhavya, a cancer survivor.
"We can travel again. I will buy a new bike for her even if I have to take loan. However, now this is the only way out," Sachin Kumar.
This Malappuram native said that he did not feel like riding around a bike when just kilometres away from his house a group of people had lost all things dear to them. "Don't we have to repair our roads and bridges? I will give the entire amount from the sale of the bike to the relief fund," Sachin said.
Malappuram is one of the worst-affected districts in Kerala, after incessant rain and landslides wreaked havoc in parts of the state. A massive landslide had struck Kavalapara near Nilambur in the district, claiming several lives.
Sachin had earlier garnered much attention when he refused to back off from his relationship with his girlfriend Bhavya even after coming to know that she had cancer. Brushing aside the worries of treatment and its costs, Sachin married her.
Bhavya, who had spinal cancer, underwent 16 chemotherapies and 30 radiations. After the traumatic treatment, Bhavya is slowly making a return to normal life. She resumed her studies and has joined for the MCOM course. After the surgery, Bhavya has been advised to be extremely careful of her spine. The routine bus journey is surely not for her.
After it was found that riding pillion on the bike is a better form of travel, Sachin's relatives had bought them a new bike. However, as Bhavya has to frequently undergo hospital treatment, not much travelling happened.
Sachin was into flooring and tiles' works. He had bought an autorickshaw one month ago, considering the hospital trips too. He is yet to repay the full amount of that also.
Several people have been contacting him after coming to know that Sachin's bullet is for sale. Sachin is not asking for the bullet's price from them, but a share for the good deed.