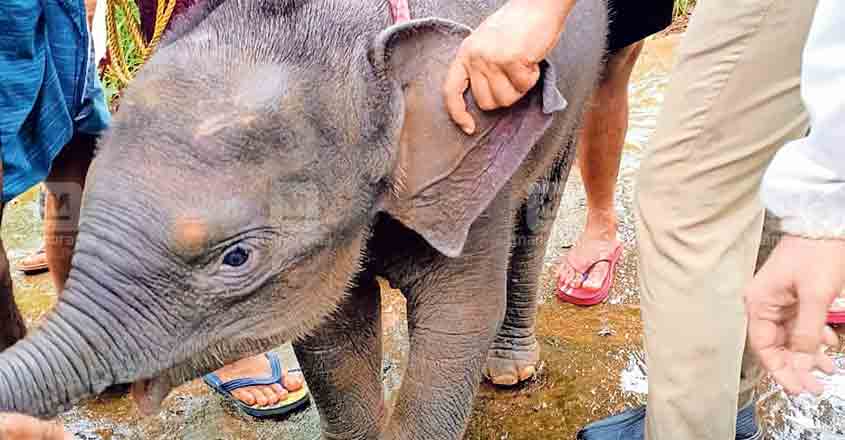 Nilambur: An elephant calf that got separated from its herd and landed amidst humans has been rescued by the wildlife personnel at Adyanpara, near Nilambur, in Kerala's Malappuram district. 
The two-month-old male is suspected to have been carried away by strong currents as it was crossing the river along with its herd at night. It somehow made it to the land later. 
A plantation worker, C T Shaberali, first spotted the little elephant near the small hydroelectric project at Adyanpara around 9 am on Sunday. 
When he called out, it came towards him. However, when more people started crowding around, the calf got frightened and started running along the road. However, it fell into a muddy pool before scampering into a tunnel. Onlookers then brought it outside and tied the jumbo to a post.
On getting to know about the incident, station forest officer Josemon and his team arrived on the spot. They took away the baby elephant in the vehicle to the station. 
A veterinary surgeon arrived and checked the animal, and it was found to be in good health and without any injuries.
The calf is apparently enjoying the care and attention it is getting. The little tusker was found to be happily gulping down the food - a liquid mix of baby food and glucose - given to it by the personnel of the forest department.
If the situation is favourable the authorities may send the little tusker back with its herd at night.