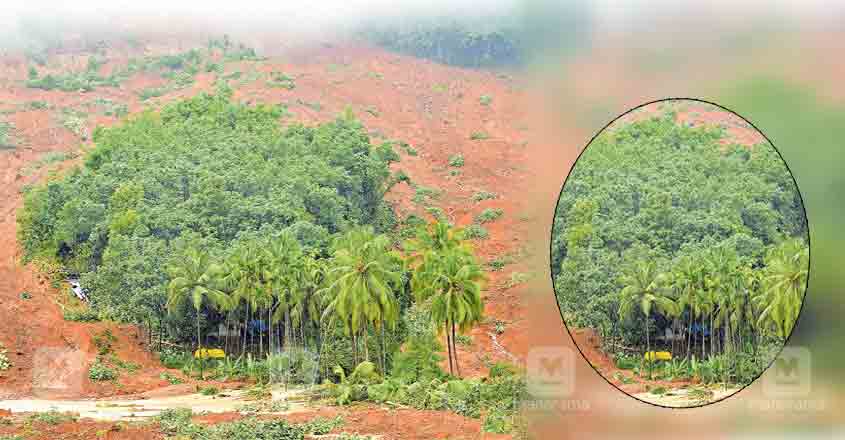 Malappuram: The image of a small green patch amid the debris of mud and rock stood out as the media reported about a deadly landslide on the Kavalappara Hill in this Kerala district a few months ago. It marked the plot where the house of the sole surviving family of the natural disaster resided. Today, this family of Vinesh is facing official apathy as they try to restore their house that was damaged as neighbouring properties were buried along with their occupants.
Even though Vinesh's house still stands, it had suffered much damage in the landslide. The earth that came down the hill had ruined the back portion of the building and uprooted trees had destroyed the roof. Moreover, mud that flowed into the house made the interior uninhabitable.
However, even while faced with such huge losses, Vinesh is yet to be sanctioned even the emergency aid of Rs 10,000 announced by the government for disaster-affected persons. Worse, the family is missing from the list of flood-hit people in Kerala.
The conditions for securing the aid of Rs 10,000 is staying in a relief camp for at least one day and submitting the necessary identity documents. Vinesh's family had lived one-and-half months in the camp and also presented copies of his passport and Aadhaar card to the officials concerned.
However, the aid has been denied by the authorities at the Village Office, pointing out Vinesh's name has not been included in the ration card. When Vinesh's wife, who has a ration car, tried to submit another application, it was not accepted.
A team from the Revenue Department had also visited Vinesh's house last month and the family had pointed out to the officials the damage their house had suffered. Still, they did not find a place in the list of target beneficiaries.
Another family at the receiving end of the lackadaisical attitude of the authorities is that of Abida, who died in the same landslide.
Authorities have said that the aid of Rs 4 lakh to the kin of the people who lost their lives in the tragedy had not been paid in nine cases as there were disputes regarding the legal heirs. However, it is pointed out that in Abida's case there is no problem in identifying the heirs.