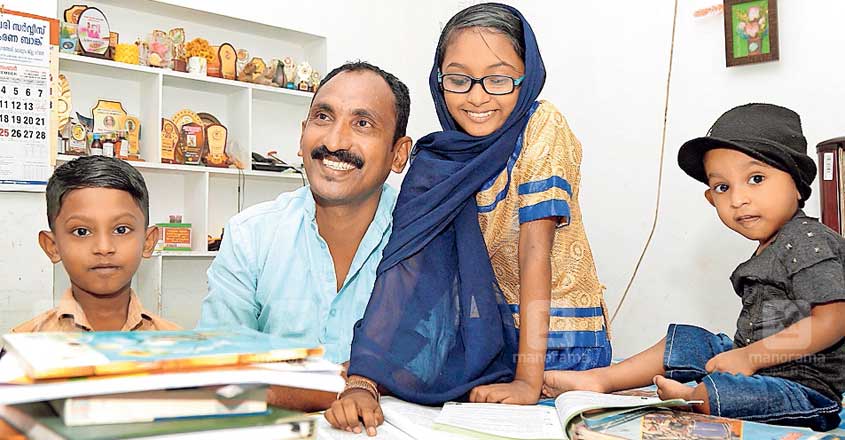 Ponnani: The Kerala State Literacy Mission has been engaged in significant activities to promote adult education. It has been holding literacy classes for migrants, tribals and all those who missed out on formal education in their childhood. Its education programmes and tests are well-received by adults yearning for education. One such person is Sujeer, 41, a resident of Parangu in Kerala's Malappuram district.
At most households, it is the parents who urge the children to study hard. But at Sujeer's house his children constantly remind their father Sujeer to study diligently.
Sujeer had to abandon his studies when he was in Class 7 due to unfavourable circumstances at home. But during his adult years, Sujeer decided to return to books. He cleared the seventh standard equivalency test four years ago. He then wrote the Class 10 exam. The success in this exam inspired Sujeer to study further and he wrote the Plus-One exam.
He could secure the highest marks in the taluk and subsequently sat for the Plus-Two exam. Now, Sujeer wants to become a Malayalam teacher. He is now gearing up to study for graduation.
An ardent fan of Malayalam superstar Mammootty, Sujeer named his children after the actor's kids. So Sujeer sits down to study at 8pm every day with son Dulquer Salman. He has a daughter too, Surumi. His third son is named Maqbool Salman, after Mammootty's nephew.
Disheartening childhood
Though he was good at studies, Sujeer had to stop his studies when he was in Class 7. He had to help his father, a meat seller. Sujeer said he was disheartened to notice his friends heading to school. He used to loiter around on the school premises.
He took up all the odd jobs that came his way. He got married and began a family life. But he missed out on several opportunities in life as he had not even completed the primary studies. Sujeer maintained his silence in most situations as he was scared he would end up saying something silly. He constantly worried about missing out on life.
How his life changed…
When Sujeer was desperately looking for opportunities to excel in life, civic ward member Sabira Sharafudeen introduced him to literacy mission co-ordinator T Sheeja. He then made preparations to write the seventh standard equivalency exam. The classes were held during the holidays at the A V High School at Ponnani.
He did not even miss out on class even for one day. Sujeer went to class even on his brother's wedding. He made it a point to study with his children at home every single day. His wife Sauda also backed his efforts. Thus, Sujeer became the favourite student of his teachers at the age of 41.
Sujeer leads the way
Sujeer has been urging his friends, who had to abandon studies for various reasons, also to write the equivalency test.
Sujeer taught his friends about what he had learnt. Sujeer is delighted that several of them have cleared the class X equivalency exam.
Sheeja was also at the forefront of this initiative.