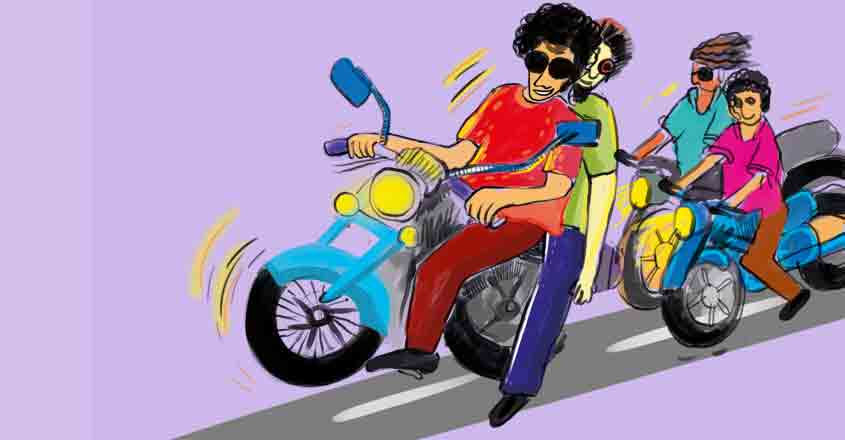 Edappal: During the inauguration of the art day at a college in Parakkulam here, some students, whose 'celebrations' crossed limits, were nabbed by the very guests who were invited by the college: Janamaithri Police.
The civil police officers Sameer Ali and Jijo Mon, who inaugurated the event, are also in charge of the traffic awareness activities in the area. As one official was delivering his speech, about thirty final year students of the college arrived near the venue on bikes. Flouting all traffic rules, the students, who were neither wearing helmets nor sticking to the permitted sound level for bikes, began performing stunts near the stage.
The police officers immediately sprang into action and with the permission of the college principal started doing their duty. The students, realizing that the police were out to end their 'show', tried to flee from the spot. Though most of them escaped, three students landed in the police net. The youths were taken to the police station and their parents summoned. After a fine was imposed, the students were let off with a warning. Meanwhile, the remaining students have been summoned to the police station.
The prompt action of the police officers received a big applause from the other students.
Officers at the Thrithala police station are now planning to organise an awareness programme and rally involving these 30 students and others. It has also been decided to strengthen surveillance at events held at colleges and other educational intuitions as reports of bike rallies and other daring activities were received by the police.