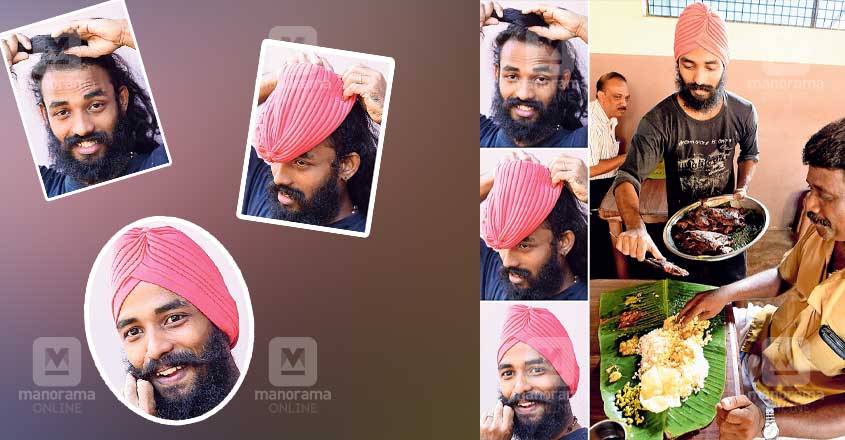 Malappuram: Of late young men in Kerala have been tending their hairs to a great extent. Their long hairdos have stunned the conservative males who keep it short and they may give the turbaned Sikhs a run for their money. A native waiter at the Kerala Water Authority's canteen here even looks like the latter in his colourful turban. But his colloquial Malayalam with pronounced Malabari accent is a dead giveaway to his Malayali lineage.
P Vineeth, a resident of Padinjattumuri in this Kerala district, loves long tresses. As he realised that his waist-length hair would not be good for his profession, he decided to take the guise of a Sikh.  
He has been wearing the turban for around a month. A friend, who had been to Punjab recently, gifted Vineeth with this ready-made turban. 
Vineeth ties up his hair in a bun, then wears the cap over it. Any left-out strand is also duly tucked into the cap.
He has been enjoying his makeover. Some patrons even place their orders in Hindi as he attends to them.
Vineeth is not obsessed about his hairstyle, though. He donates hair to make wigs for cancer patients and he has already done that thrice.
With impressive looks, the youth eyes a chance in films. Though he went for a couple of auditions, he could not make it. Vineeth is not disappointed by the rejections, he is sure a call would come his way.