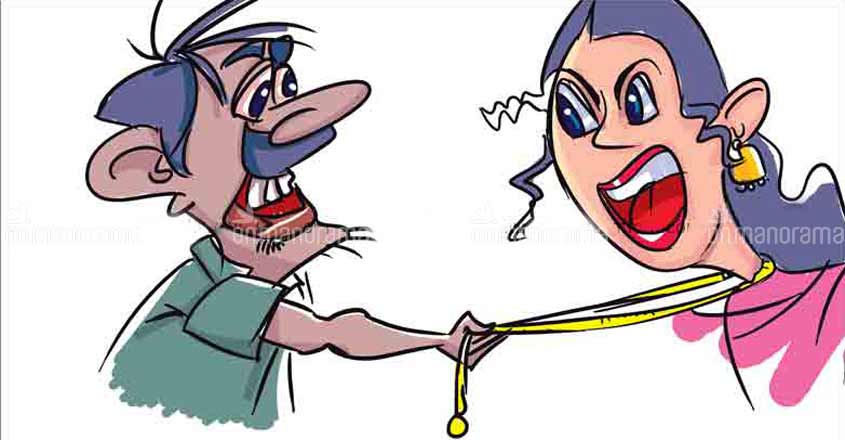 Walayar: An alert woman foiled a bid to snatch her chain here. The incident happened as she was sitting at the counter of a restaurant owned by her family near the Kerala-Tamil Nadu border.
Souda, 48, successfully resisted the robbery attempt on Saturday afternoon when there were only a few customers at the hotel located along the Para– Pollachi inter-state highway.
A man who entered the hotel after parking his bike on the roadside made the bid. Even when he was inside, the man did not remove his helmet and asked for a change for Rs 500. He then pretended to take the money from a back pocket of his pants and came up with a packet of chilli powder which he hurled at Souda's face. The man then attempted to snatch the chain from around Souda's neck.
However, Souda grabbed the man's helmet and tried to take it off. She also took a stick kept nearby and thrashed the robber. The man was felled by the beatings and he pushed Souda to one side and ran towards his bike, on which he escaped in a flash.
Hearing the commotion, people from the neighbourhood rushed to the hotel, but by then the robber had made good his escape. He was seen riding towards Elappully. Officials from the Walayar South police station soon examined the scene and have launched an investigation.
The culprit was around 5.5-foot tall and wore a T-shirt, Souda said. She is the wife of Basheer of Kuttiyattil House in Karingarapully.
The border town of Walayar is in the Palakkad district of Kerala.