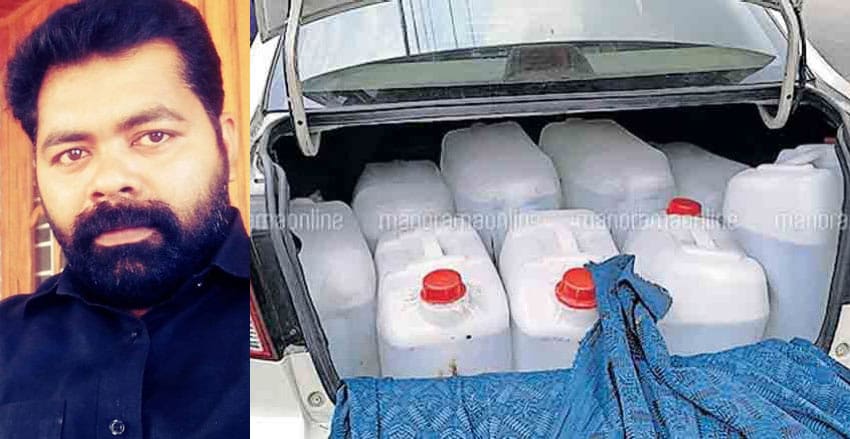 Palakkad: A CPM local leader who fled from an Excise raid here has been arrested. Absconding for three days, Perumatty local committee member Anil Kumar, alias Athimani Anil, was caught from an unidentified location near the Kerala-Tamil Nadu border yesterday.
Mani, 46, a driver, was also arrested from the spot. He is a native of Vazhakkodu in Kozhikode district.
After his car carrying spirit was intercepted, Anil, 37, escaped from the Excise team to reach Pollachi after crossing the Meenakshipuram check post on Thursday.
The BJP had sought an inquiry into the transactions of CPM leaders and allegations that Chittoor Police was helping Anil. He is also an accused in 10 cases including spirit transport, attempted murder and violence.
CPM face saver
The CPM sacked Anil after he was charged as a prime accused in the spirit haul. The party has also cancelled his primary membership.
He was a member of the party's Perumatty local committee and the secretary of its Athimani branch.
An emergency meeting of the local committee took the decision, said district secretary C K Rajendran.
Successful raid

The noose tightened on Anil after bout 525 litre of spirit was recovered from a car intercepted by an Excise team. The Excise preventive officer had received information of movement of spirit across Kerala after being transported from Coimbatore and Pollachi. Despite a search in Walayar and Meenakshipuram checkposts, the car managed to cross the border. The vehicle was intercepted at Thathamangalam in Palakkad district after it took a narrow lane to evade the team. However, Anil managed to escape in another car.

The spirit was brought for addition to toddy collected in Chittoor Taluk. Valued at Rs 5 lakh, the spirit was stacked in 15 cans in the dickey and a secret chamber under the seats.

The investigation was carried out by an intelligence team formed by Excise Commissioner Rishiraj Singh.