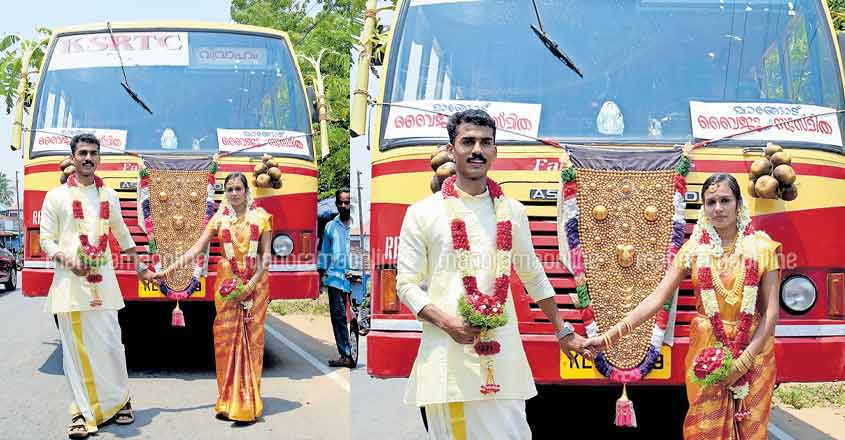 Kollengode: Pothampadam witnessed a marriage of sorts when Baiju of Mangodu and Susmitha started their journey together on a traditionally decorated KSRTC bus of Chittoor depot. Putting brakes on the trend of newly-wed couples driving home on luxurious vehicles from wedding halls, Baiju chose the road of modesty and decided to travel home on a KSRTC bus after wedding. Earlier in the day, the groom and his relatives started from Mangottu at Thattamangalam on the public transport utility's vehicle decorated with a elephant caparison in front and palmyra fruits and reached the the Community Hall at Pothampadam. The bus sported boards 'Wedding Mangodu Baiju,Susmitha', instead of the name of the destination to which the bus is heading to.
Baiju, who works with a private firm in Ernakulam, wanted to do away with the normal luxury vehicles for the wedding and opted for the KSRTC to do his bit to revive the image of the loss making government public transport. Through his nuptial journey he wanted to drive home the message that the vehicle of the common man, which gets normally wrecked by violent agitators during strikes, needs to be badly protected. Baiju had the full support of his parents and wife Susmitha in the mission
KSRTC buses available for weddings
Are you interested to hire KSRTC buses for weddings? Then head to your KSRTC depot and consult the unit officer who will allot the vehicles as per the availability. The KSRTC also rents out its buses even for picnics, provided the customers abide by the rules
Pay a rent of Rs 8,000 plus GST for a journey of 5 hours or 100km.
Rs 10,000 plus GST for travelling 6 hrs or 150 km
Rs 12,000 plus GST for renting it out for 8 hours or 200 km.