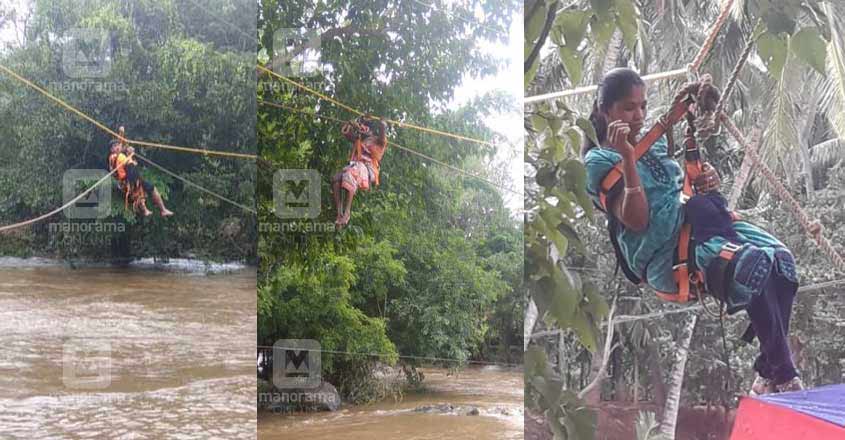 Palakkad: In a daring rescue mission, a family of six, including a pregnant woman and her older child, was rescued across a swollen Bhavani River at Attappadi in Kerala's Palakkad district even as incessant rain pounded the state.
The 60-year-old Pazhaniamma was the first one to be taken across the river through a couple of ropes that connected the two banks of the river. Her son Murukesan and grandchild Myna soon followed. Myna was tightly wrapped around Murukesan.
Myna was in tears as she reached the other side of the river and Pazhaniamma rushed to console her.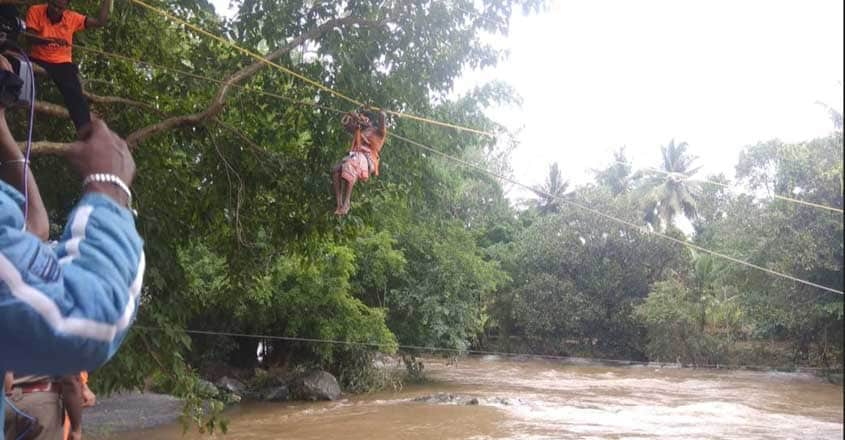 Pazhaniamma and her son watched with bated breath as Lavanya, who was eight months pregnant, was the next one to cross the dangerous river. Two officers were also with the family, giving them support. The family were apprehensive about the pregnant woman being taken across on the rope, but the rescuers took extra care for her.
Special arrangements were made for Lavanya and she too made it safely to the other side.
The family were stranded at their home at Konnor Thuruthu where the Bhavani River forks into two. The police, fire force, panchayat and the local people all joined hands to rescue the hapless family.
The first attempt to rescue the family had to be abandoned the other day due to the tumultuous waters. The authorities came forward again to rescue the family, which had feared for the worst. The rescuers paid little heed to the inclement weather and continued with the mission unperturbed.
The family was stranded at their home for nearly a week. Their temporary bridge and a makeshift boat were washed away after the rains lashed the region for six days. Their initial attempts to get out had failed.
The rescued people were examined at a medical camp by a team led by Dr Prabhu Das.