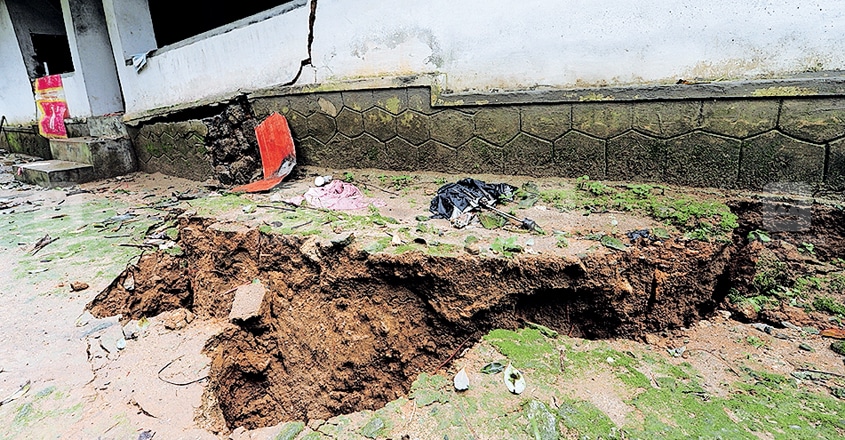 Kalladikode: Nature's wrath has scared people here at Vattappara in Kerala's Palakkad district to no end. Even as the nearby districts of Wayanad and Malappuram bore the brunt of the recent natural calamity in Kerala in the wake of incessant rains, people in this Palakkad village are in a state of panic owing to long fissures that developed on land recently.
Huge crevices have scarred the landscape of the region and the cracks are getting bigger with soil giving way, said the local residents. The fissures could be spotted in many places spread across an area of 3 km and agricultural fields sank by about 15 ft.
The local residents claimed the Vattappara region was hit by tremors apart from the obvious landslides.
Many cracks have also developed on the Kudampotty-Vattappara road and its sides are on the verge of collapse. The power supply is yet to be restored in the region. The house of Devasya at Chettiyath cracked open due to land fissures.
The area is likely to be cut off from nearby areas as the connecting road is in a shambles and slowly disappearing after it rose to a height of 4 feet.
Out of the 56 families, 52 have moved to safer places following landslips at Vattappara. As many as 155 members of 43 families are staying at a relief camp set up at the CSI Church at Kudampotty.
People are reluctant to return to their homes as there is also an acute shortage of potable water. They are hesitant to renovate or rebuild their houses as the fear a disaster anytime. 
So far, 14 houses were destroyed and the farming sector in the region likely incurred losses to the tune of crores of rupees.
The people of Payapullu, Achilatti and Moonam Thodu are also in distress as the surging waters had rendered the high-range roads unmotorable.
The public has opined that an expert committee should study the special needs of the Vattappara region and prescribe better safety measures.