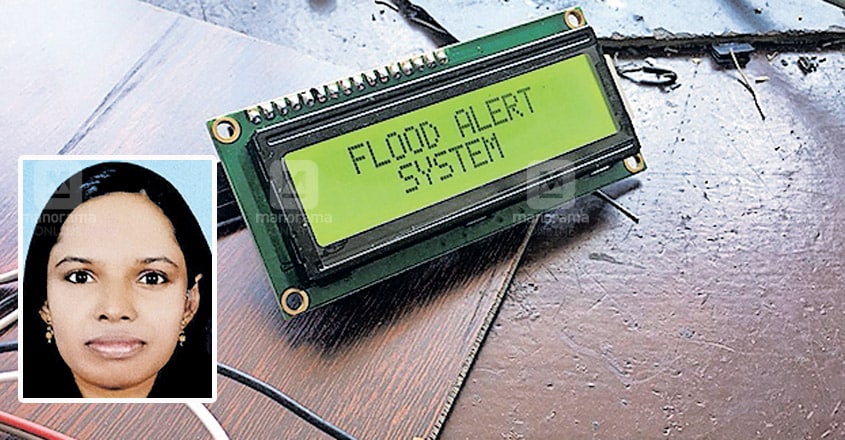 Palakkad: Widespread floods have become an annual occurrence even in Kerala where such natural calamities were at least localised during a monsoon. After two consecutive floods in 2018 and 2019, authorities and public in Kerala are alert even after a bout of heavy rain. An engineering student here has developed a device that would forewarn people of natural calamities, including floods, and help authorities and others take requisite measures to cushion the impact of such disasters.
K Salmamol, an M Tech student of Malabar Engineering College at Desamangalam near here, developed the device named 'Kerala Flood Alarm'.
The instrument has two switches, a transistor, receiver, GPS system and sensors, which can detect the water level and earth's quiver. If the device is installed in office, home or any other place, it can sense any natural calamity, and the whole region would be under observation. Moreover, the details of all family members can be entered in 'Kerala Flood Alarm'.
The device will also make available the level of rainfall and details regarding the type of alert under which the area falls, and if the region is in danger, message would also be send to the officials concerned.
The instrument would work even if the communication links are not functioning.
Salma said that the Kerala chief minister had been informed about the innovative device and subsequently she received a letter from the State Disaster Management Authority.
Last year it was reported that a few engineering students in Kerala developed emergency power banks for people marooned in the flood.The armed forces which were taking part in rescue operations during floods had even dropped hundreds of these power banks for the benefit of the stranded who would have exhausted the battery charges of cell phones.