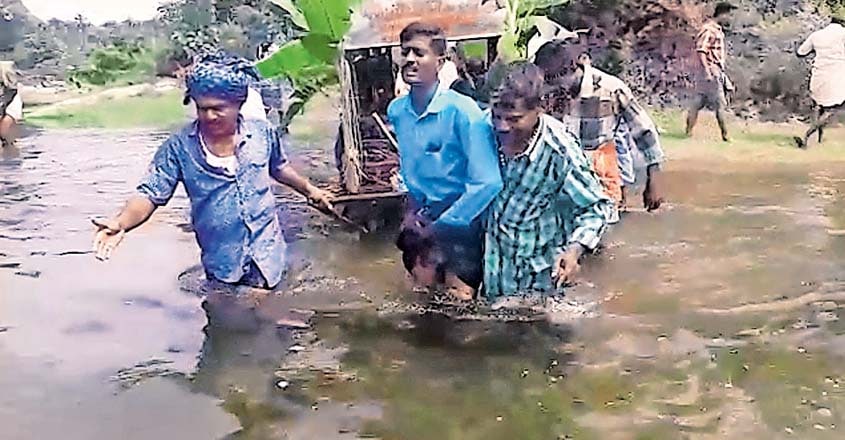 Kozhinjampara, Palakkad: Infrastructure in areas on Kerala's border with other states as well as near forests are inadequate or nonexistent. As a result people residing in such areas have to put up with severe inconvenience for travel, healthcare and education.
A distressing image showing a couple of youths crossing a river, while waist-deep in water, even while pulling a hearse has made it to social media. This exposes the continuing neglect of infrastructure by the authorities. This scene is from a border village, Puzhamettu, in Kerala's Palakkad district.
The youths posted the distressing video on the social media platforms. It was taken ahead of the funeral of a woman named Thankamma. "We have taken lot of risk to just shoot this. Without any good roads, we are forced to do this. Please watch and cooperate with us," the youth said in a note posted on social media along with the visuals.
There are around 30 families in the village. After the Varattar River had dried up, the villagers had walked or driven two-wheelers and ox carts across the dry river bed for decades to reach Pazhaniyarpalam or Kozhinjampara on the other side.
However, the heavy rains in the past two years, brought the river back to life, but cutting off the villagers from the mainland. Now, they do not have any convenient means even to take the ailing to the hospital or the dead to the cemetery.