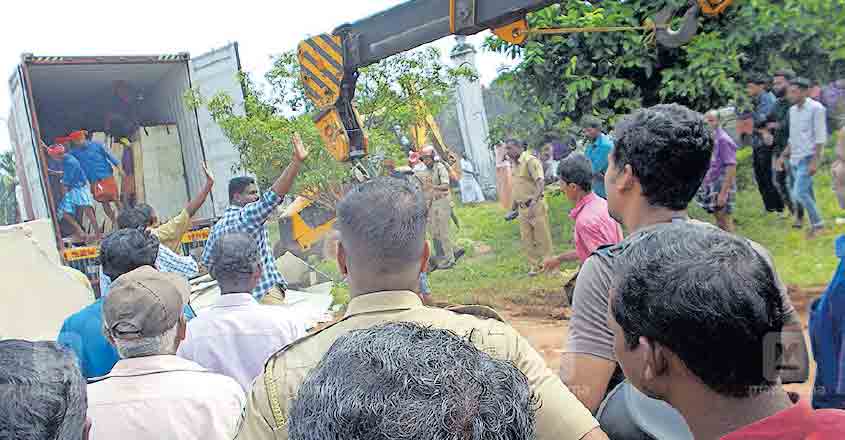 Kottayi: The tragic death of two headload workers while unloading marble panels from a container truck has shocked the local people at this village in Palakkad district.
The victims Sreedharan (52) and Viswanathan (50) were members of the Indian National Trade Union Congress - INTUC -- and were based at its Cherukulam unit.
The incident took place at the resort of a private individual at Cherukulam earlier this week. The panels had arrived from Rajasthan. Another truck carrying marble had also reached the resort a few days earlier and the same team of workers had unloaded it.
Each of the panels measured 12 X 6 feet and the truck carried 100 panels, with 50 packed on either side of the container. Four workers, including the victims, had boarded the truck to unload the marble and 11 others waited below to receive it. However, all the 50 panels on one side collapsed over the four workers who were in the container.
Two workers, Thankappan and Vasu, managed to jump out of the truck in time and save their lives. However, Sreedharan and Viswanathan were not lucky and were crushed under the panels.
The police and Fire and Rescue Service personnel soon arrived at the spot, however, Sreedharan and Viswanathan could not be saved. While the former had been a headload worker for 25 years, the latter joined the union 12 years ago.
Sreedharan, son of late Chandran, was a resident of Chelakkad, Cherukulam. He is survived by wife Sajitha and children Sreejith and Sruthy.
Viswanathan, son of late Kumaran, was from Pulikkal area. He is survived by wife Sreeja and children Dijith and Vijitha.
After the official procedures, the bodies were placed at the INTUC office for the public to pay homage. Later, the last rites were held at Ivor Madom, Pambady.
Hundreds of local people had gathered at the site of the tragedy as soon as the news spread.