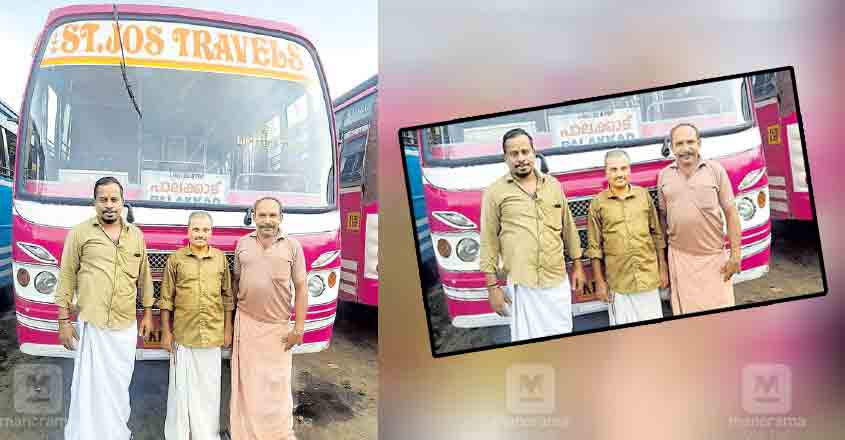 Pattikkad: Kuthiran area, which is along a stretch of the national highway between Thrissur and Palakkad towns in Kerala, is notorious for traffic blocks owing to a stalled road and tunnel construction project. Recently, a family who was rushing a sick and pregnant member had an harrowing time as their bus was caught in a jam there. Luckily, the young woman's life could be saved as prompt action by the bus crew helped them to move her to a hospital with the help of the Highway Police.
The woman and her mother had boarded 'St Jos Travels', a private bus conducting service on the Thrissur-Palakkad route the other day. The Thenur-based duo were heading to a hospital as the pregnant young woman had a fever. However, when the bus reached Kuthiran, the woman's condition became worse. Soon, the bus conductor was alerted about the matter.
The bus crew sensed well the seriousness of the issues at hand -- the health of the woman and the congestion on the road which might not ease so soon.
The driver and conductor tried to contact the Highway Police who could help the sick woman but found that the cops were on the other side of the Kuthiran tunnel. By that time, the bus was well stuck in the traffic jam. Losing no time, the bus staff got into action to help the woman. Conductor Reji along with Vincent, driver of another bus, began running in front of the St Jos bus, clearing a path for it between the vehicles in front. Kannan, driver of St Jos, employed all his skills at the wheel to negotiate the bus through the traffic block and in 10 minutes they reached the spot where the Highway Police team was waiting.
The young woman was rushed to a hospital in Thrissur by the police in an ambulance and she was admitted to the Intensive Care Unit.
Doctors later said that she was stable. The condition of the woman did not deteriorate further only because she was brought to the hospital without delay, the doctors told her father. The latter was moved and expressed his gratitude to the bus personnel after locating them.