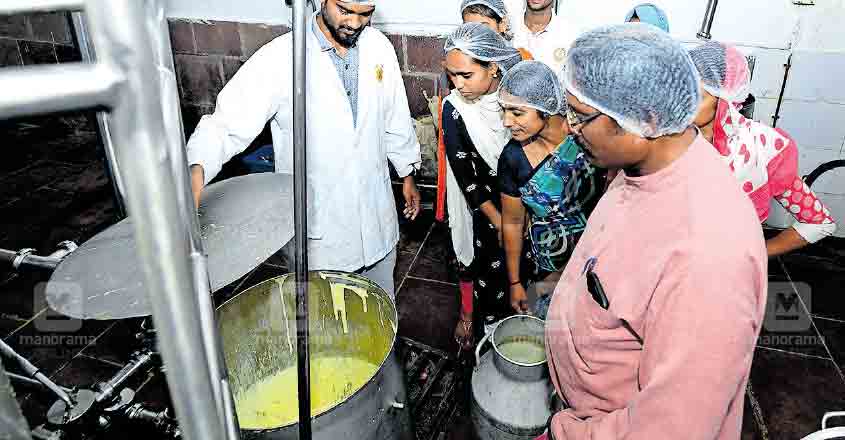 Palakkad: Kerala has a long way to go to attain self-sufficiency in milk production. Dairy farmers in Palakkad district could play a significant role in boosting state's milk output as daily production in this border district has touched 3 lakh liters after steadily increasing over the years.
Dairying is the mainstay of about 30,000 farmers and lakhs of families in the district. The Dairy Development Department plays a pivotal role in increased production of milk and the state cooperative Milma has been instrumental in ensuring that the dairy farmers get a fair price for their produce.
Steady rise
The district's milk production gradually increased in the past four years. The daily milk production which was 2.43 lakh liters in 2016 rose to 2.68 lakh liters in 2017, 2.80 lakh liters in 2018 and 2.85 liters in 2019. Out of the total daily production, around 65,000 liters of milk are sold locally and the remaining is given to the Kerala Cooperative Milk Marketing Federation which is popularly known as Milma.
The 2018 floods took away 64 cows resulting in a cumulative loss of nearly Rs 2.25 crore. After the deluge, the milk production dipped by 17,000 liters but the district had remarkably recovered from the battering it received during floods and heavy downpour.
Around 30,000 farmers in the district are part of the 325 dairy groups. The state government has set aside Rs 8 crore this fiscal for various development programmes in the region.
The local self-government institutions expended close to Rs 7.5 crore for the development of dairy sector in the district, said J S Jaya Sujeesh, deputy director of the Dairy Development Department. Moreover, 3 additional dairy groups had been formed in the district.
315 groups under Milma
Presently, there are 315 dairy groups under Milma's Palakkad dairy which covers the Palakkad district and some areas of Malappuram district, and the daily collection of milk has touched 2.3 lakh liters. Out of this, 1.70 lakh liters of milk are distributed within the district, and the remaining is apportioned to other dairies. The Kallepully dairy unit in this district produces milk-related products such as curd and ghee, and it processes milk as per the norms laid down by the central Food Safety Department.
The district has 11 Milma outlets that sell all the Milma products. Their sales turnover in 2018-19 was Rs 325.95 crore and every year there was an addition of 10,000 liters of milk, said dairy manager S Nireesh.