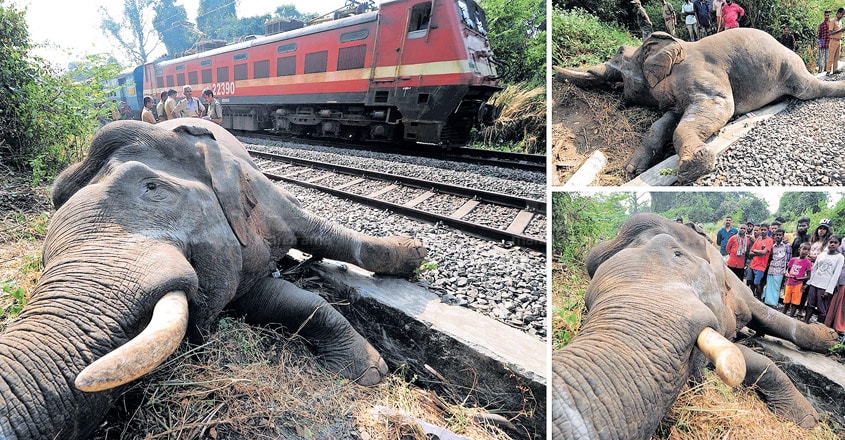 Walayar: As many as 27 wild elephants were killed along the Walayar-Coimbatore railway line by trains during the past 19 years. The toll includes a wild tusker that was mowed down by an express train at Kottekad locality in Kerala's Palakkad district on Christmas eve.
It is suspected that the dead elephant is the same one that had been posing trouble in the area, thereby keeping people on the tenterhooks. The forest department said that this elephant was among the 13 wild tuskers that frequently entered the human settlement areas and caused trouble.
The forest department has filed a case against the Railways over the latest incident.
The tusker was hit by the Thiruvananthapuram-Chennai Express on Tuesday night. The accident happened while the tusker was trying to cross the railway track and return to the forest region. The accident happened on the 'B' line of the Palakkad-Coimbatore track that passes through the Walayar forest region.
It is suspected that the train dragged the carcass of the elephant for some distance along the track. Local people found the carcass outside the railway track.
The tusker could have broken the fence and entered the track. The internal organs were also injured in the impact of the accident, said the assistant forest veterinary officer Dr David, who conducted the postmortem. The carcass was buried in the forest region under the supervision of DFO Narendra Nath Veluri and other forest department officials.
Elusive rail fence
Wild elephants often cross the railway tracks in the Kanjikode-Walayar region to enter the human settlement areas. This can be stopped by building a fence using the iron that goes into making of the rail tracks.
Even though the remote areas of Palakkad has been troubled by elephant raids, the promised rail fence continues to be on paper. The project is as good as abandoned due to the lack of coordination between various departments. Neither the Railways nor the forest department has taken the initiative to complete the project. The government had sanctioned Rs 8 crore for the construction of the fence for a distance of 6 km in the phase one.
A committee that included the district divisional forest officer, wildlife inspector, and a panchayat member, who was the representative of the Railways, was tasked with completing the project. Though the survey was completed, the project failed to materialise.
Though several outfits including the Wildlife Protection Society has appealed to the government not to abandon the project, no action has been taken so far.
Though solar fences were set up by spending crores of rupees, it also did not put an end to the problem. Another project was to bring in Kunki elephants, but that also failed to provide the desired results.
Meanwhile, three people were killed by the tuskers in the region in the past six months.