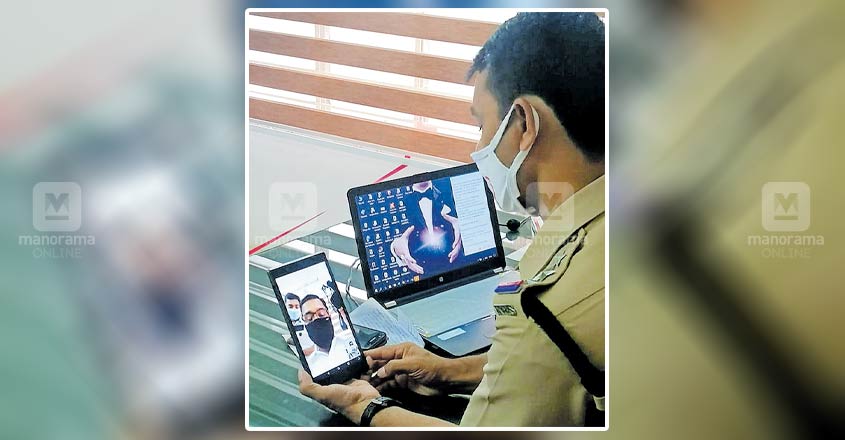 Nemmara: In a bid to minimise direct interaction and physical contacts in view of the COVID-19 pandemic, the Nemmara police station in Kerala's Palakkad district has announced that it will receive complaints and provide other services to the general public using the online media. 
Those with a complaint will no longer have to go to the police station to lodge it. They can instead file it through WhatsApp, the popular multimedia messaging platform, as well as Facebook. 
The station on Tuesday launched the WhatsApp number and Facebook account that can be used by the public to contact it. 
This is the first police station in Kerala to have such a system.
At a function held at the station, K Babu, MLA, inaugurated the services by making a WhatsApp video call to A Deepakumar, CI.  
TP Narayanan, SI, and Jaison, junior SI, also participated in the function.
How to use the facility
The WhatsApp number is the official telephone number of police station 0492-3243399. The Facebook account is that of the  Nemmara Police Station.
The station will accept typed complaints or photos of written complaints. It will respond immediately through WhatsApp. The complainant can also interact with police officials through the WhatsApp video.
The public may report any violation of law through this facility, which will be available 24 hours a day to examine and respond to each complaint, station officials said.
The complaints filed through WhatsApp and Facebook will be kept confidential and only the head of the station will be able to see them, they said.
The facility can also be used to obtain clearance certificates and other such documents and even the COVID-related district pass. It could also be used to reply to queries by the public.     
With these online media, we also aim to provide free online class and PSC exam coaching held by the Janamaithri Police, A Deepakumar, CI, said.