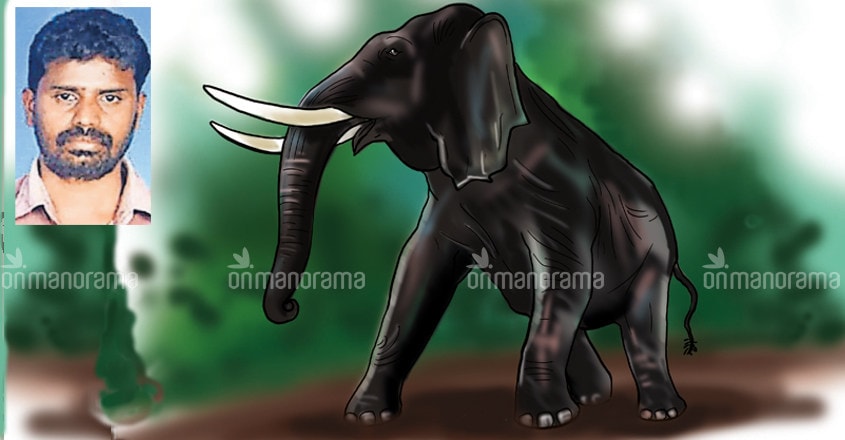 Sabarimala: The 35-year-old pilgrim from Tamil Nadu, who was trampled to death by a wild elephant on the traditional forest path leading to Sabarimala on Tuesday night, met with the tragic end while attempting to save his niece.
The deceased, identified as Paramasivam, a native of Palapatti East Street in Tamil Nadu's Salem district, was on his way to the holy shrine carrying the child on his shoulders when the gruesome incident occurred. The child, Divya, had a narrow escape as Paramasivam, before being attacked by the animal, threw her away to safety.
The incident took place on the trekking route near Mukkuzhi between Kariyilamthodu and Karimala around 11pm. Pilgrims, who take part in the ceremonial 'Petta thullal', normally opt for this forest path to reach the Sannidhanam.
The duo was part of a 40-member pilgrim group from Salem. Thirteen of them were resting at a makeshift shop during the arduous trek when the wild tusker charged at them. The pilgrims ran helter-skelter on sighting the animal. While the others in the group turned back and rushed in the opposite direction, Paramasivam, carrying the child, haplessly ran forward in an attempt to escape the rampaging jumbo. That proved fatal as the elephant chased and attacked him, killing him on the spot.
His 10-year-old son Gokul was also part of the group. Upon hearing the tusker's aggressive roars and the pilgrims' cries for help, people running makeshift shops along the path rushed to the spot, and found the girl crying next to the body of her dead uncle.
Immediately after being alerted to the incident, a team of forest and police officers, reached the spot with fire torches. With the help of Ayyappa Seva Sangham workers and other pilgrims, Paramasivam's body was first carried to Mukkuzhi before being shifted the Mundakkayam Government Hospital where he was declared brought dead.
Of late, sighting of wild elephants has been fairly common on the traditional trekking route. Following the tragic incident, the remaining members of the group abandoned the trek and went back. In the presence of forest officials, they received the body from the hospital and took it to Salem in an ambulance on Wednesday.
Restrictions imposed
In the wake of the incident, strict restrictions have been imposed on pilgrim movements after 5pm along the traditional trekking route via Karimala. Devotees will not be allowed to trek the forest path after 5 pm from Erumely and after 10pm from Moozhikkal, officials said.
Pilgrims who head to Pamba from Erumely through the Karimala route are required to reach the base camp before 5pm. After 5, they would be advised to stay at camp centres set up at Azhutha, Mukkuzhi and Kariyilamthodu. Those coming via Uppupara will be stopped at Pullumedu after 1pm, added the officials.
Read more: Latest Pathanamthitta news