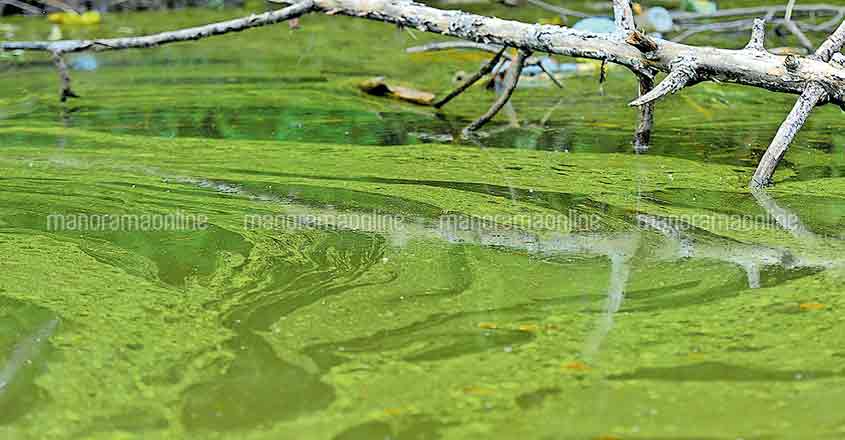 Pathanamthitta: A study has confirmed that the yellow hue that has been spreading on the water surface in the Achankovil Lake is a micro aquatic algae which belong to the family of euglenophyta. Euglena sanguinea, Euglena arcoverde and Phacus curvicauda, are the only species hitherto discovered from the same family. These algae produce a toxin called euglenophysin capable of destroying the flora and fauna in the lake.
When this alga spreads on the surface of the water, the oxygen supply to the water would be completely cut off in the process of eutrophication. This results in massive death of fish which rely on the dissolved oxygen in water. However, as this alga has the capability to prevent bacterial growth, it has the potential to fight cancer. The rising temperature and salt density in the lake has aided the proliferation of this alga. Euglenophyta has earlier been found in the rivers of Brazil and Poland. The algae was previously found in water bodies rich in harmful chemicals like cadmium, thallium, zinc and lead in it.
This alga would easily grow in the water bodies which get contaminated with phenol, and other chemical fertilizers and insecticides. The presence of the euglenophyta proves that the water in the Achankovil Lake has been severely polluted. However, the study stressed that the alga was not responsible for the various skin diseases reported in people who bathe in these waters. The Department of Botany at the Pathanamthitta Catholicate College, conducted the study. The research team led by Dr. Binoy T Thomas had Dr. VP Thomas, MV Bhagya and T Sharanyamol as its members.