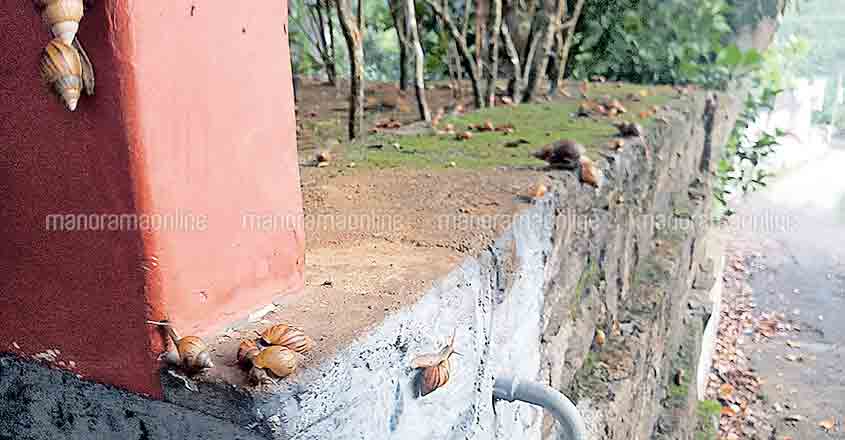 Ranni: The menace of Giant African Snails has made life difficult for people in Pulloopram ward of Angadi panchayat here in Kerala's Pathanamthitta district.
Hundreds of snails hatched as soon as the first rains were witnessed. The large land snails are also seen in the nearby wards 9, 11 and 12.
The farmers growing elephant yam, colocasia, tapioca and vegetables are now suffering extensive damage. The snails also feed on the posters on walls. They come out in search of food after dusk.
It is believed that the snails reached Kerala from Africa through imported wood. They feed on tender leaves that sprout during rain. During  summer the eggs of the snail remain under the leaves fallen on the ground. During rains the eggs hatch. Soon the snails proliferate and their number rises to thousands.
The threat has been present in Angadi panchayat for years now. Efforts to eradicate it have failed. Two weeks ago, a meeting was convened by the panchayat to discuss measures to guard against monsoon diseases. During the meeting an Anganawadi teacher had raised the issue of the snails. However, the health department officials replied that the African snails are harmless and should not be considered as a threat.
Local people have been demanding eradication of the snails for years. Even though the MLA and other people's representatives had promised action, nothing has materialized. The panchayat had set apart Rs 1 lakh for the purpose in 2016-17. However, there was a dispute between panchayat and health departments delaying the project. Finally the fund lapsed.
Last year the project got going but was abandoned following the floods. This year too, funds are available but the Lok Sabha elections followed by a byelection in Nellikamon ward has delayed the implementation. By the time the election code of conduct is withdrawn, the snails would have invaded the entire Pulloopram ward.
Giant African Snail (Achatina fulica) is considered one of 100 most invasive species in the world.