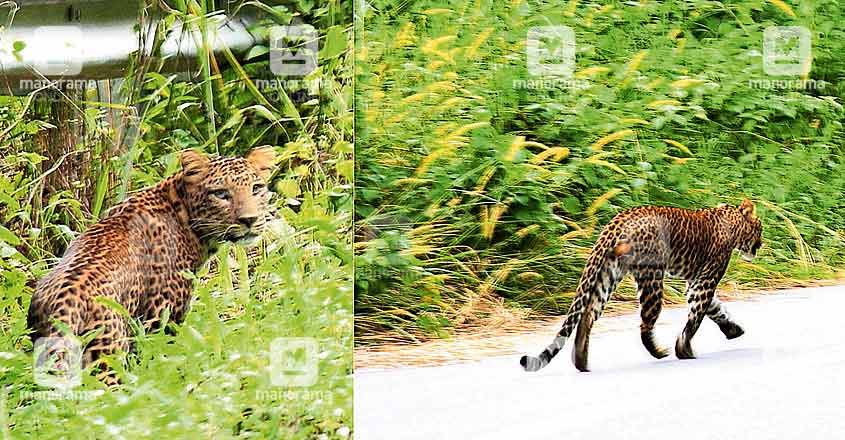 Pathanamthitta:  An NRI and his family members are yet to recover from the shock of a close encounter with a leopard during a drive along a forest road in this Kerala district. The leopard was reportedly seen near Chelikuzhy on the Sabarimala route.
The family of Sony George from Mylapra had a close shave with the beast when they were returning from a relative's house during a vacation trip in their native land after returning from Australia, where they are based. They had taken the road via Angamoozhy and Plappally to return to their home at Mylapra, also in the same district.
They had the terrifying encounter between Llaha and Plappally along the Mannarakulanji– Pamba-Sabarimala route. The animal was likely lurking in the shrubs close to the crash barrier on the curb of the road. Seeing their car, the leopard raised its head. The terror-stricken driver immediately switched off the vehicle and stopped. The leopard soon returned into the forest after lingering for a while. 
Meanwhile, the fear of leopard has spread to Meenkuzhi area, near Chittar too as one was sighted earlier. A leopard had also caught a buffalo in the area.The buffalo was found dead when the house owner Salim and his wife returned from a relative's wedding.
Two months ago, a leopard had caught a calf from the workers quarters of the Llaha plantation of Harrison Malayalam Plantation. It is doubted that the same leopard was sighted by Sony and his family.
With the Forest Department issuing an alert, the local people in Llaha and Plappally are anxious. It has issued a warning for the two-wheeler passengers, particularly, following the  leopard sighting. It has also urged motorists not to stop vehicles along the forest path to enjoy the natural beauty.
The road passes through thick forest area from Rajampara till Pamba, the gateway to Sabarimala. Wild elephants are usually sighted in this area. As the Sabarimala temple is now closed after the monthly pujas, no pilgrims' vehicles are plying on this stretch, though two-wheelers and driving school vehicles are found.