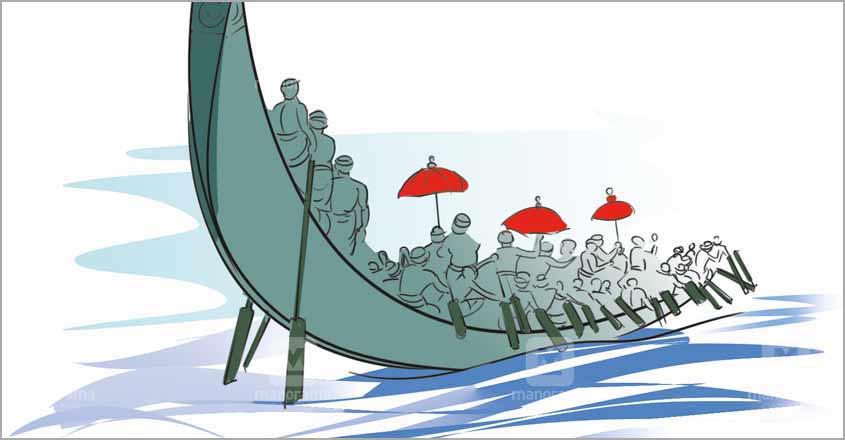 Aranmula: Preparations are on for the smooth conduct of the annual regatta, known as the 'Uthrattathi Vallamkalli', here in Kerala's Pathanamthitta district on September 15. As many as 52 snake boats will be participating in this year's boat race (vallamkalli).
Union Finance Minister Nirmala Sitharaman would inaugurate the regatta, said Krishnakumar Krishnaveni, the president of Aranmula Palliyoda Seva Sangham.
Local MLA Veena George said that Rs 6.4 lakh would be allocated with immediate effect for the removal of thick mud deposits that are blocking the waterway through which snake boats enter the race arena, near the Parthasarathy Temple, on Pamba river. She made the announcement while speaking at a meeting called to review the arrangements made for the traditional event.
Following the 2018 floods, the water resource department has been ordered to study the changes in the Pamba river, including the arena, where the snake boat race is conducted, The MLA said that a scuba diving team, which had received special training from the fire and rescue services, would be deployed in the area on the race day.
Eye on dams
The officials concerned will look into the need to open Maniyar, Allunkkal, Karikkayam and Perunthenaruvi dams to ensure adequate water in the river on the days of 'vallamkalli' and trials. Relevant reports relating to the opening of dams should also be submitted to the district collector. Adoor revenue officer will be the coordinator and Kozhencherry tahsildars will be joint coordinators of the regatta.
Panchayat president Annapoornadevi said that adequate safety measures would be put in place to ensure that no mishaps involving boats occur during the 'vallasadya', the ritualistic feast to be held from August 5 to October 6.
The famed Ashtami Rohini Vallasadya here is scheduled on August 23.
Special buses
The KSRTC will be running special bus services from Thiruvalla, Chengannur, Pandalam, Pathanamthitta, Adoor, Mallapilly and Ranni depots on the days of boat race and 'vallasadya'.
Green protocol
A cell of the district Disaster Management Authority would be functioning out of the guest house here in connection with the annual 'vallamkalli', said Pathanamthitta district collector PB Noohu. The regatta will be conducted under the watchful eyes of the department heads, who would coordinate the activities from a control room, and by following the green protocol.