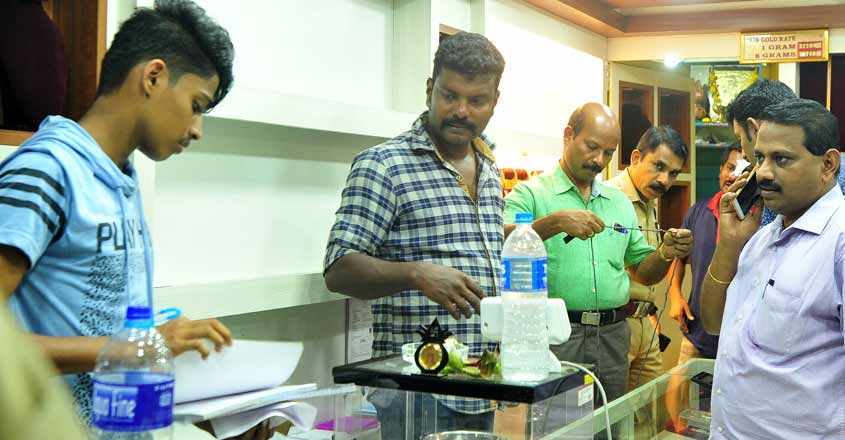 Pathanamthitta: A four-member gang was arrested over the heist at a jewellery shop in this town in Kerala. About 4.5 kg of gold and Rs 13 lakh in cash were taken away by the gang which committed the crime after other employees were tied up. The Krishna Jewellers on St Luke Hospital Road near the civil station was robbed around 5.15 pm on Sunday. The stolen gold was recovered from the gang which was arrested from Salem in Tamil Nadu.
Earlier, an employee, Akshay Patil from Maharashtra, surrendered before the local police. He was arrested later.
Akshay had joined the jewellery only last week. After the heist, the Akshay went to the bus stand in an autorickshaw with his aides and then fled in a waiting car. Akshay was then left off at Thekkemala, near Kozhencherry town, 14 km away.
He then took to a bus to the Pathanamthitta police station and surrendered. He was apparently assaulted by the same gang. The police said that the assault on Akshay was enacted and he was left on the way to prove that he had no role in the heist.
Planned operation
The jewellery shop was opened on Sunday after a local dealer sought to buy ornaments. Before the dealer came, Akshay let the members of his gang enter the shop and hid them in the locker room. The key to open the locker containing the gold and money was with Santhosh, another employee. When Santhosh came from home to open the locker, he was assaulted by the gang in the strong room and the key was snatched from him.
Meanwhile, the dealer turned up and Akshay showed him the ornaments at the counter. The dealer was distracted by the ruckus from inside and as he looked there, the youths ran away with the gold and a bag containing the cash.
Akshay also ran after them.
The dealer, who became suspicious of the whole incident, then went inside and found Santhosh lying tied up. The dealer informed the police and the shop owner, Suresh Seth.