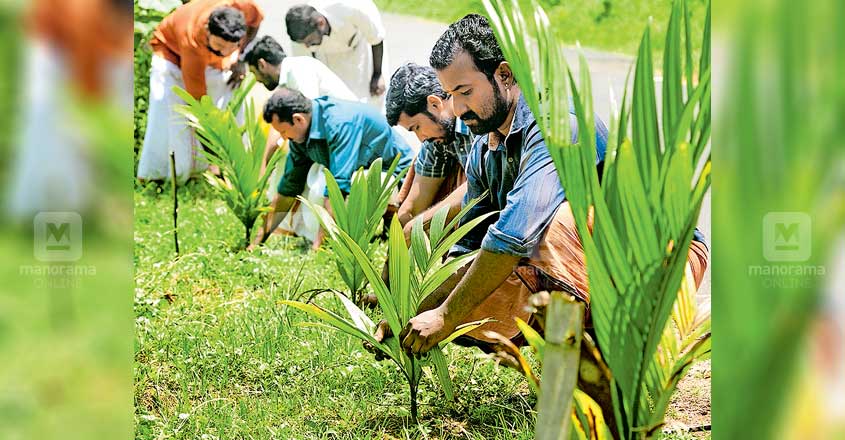 Elanthoor: The ritual art form of Padayani is practised in Kerala with a few temples like the Sree Bhagavathikunnu Devi Temple here in Kerala's Pathanamthitta district being famed for performing it at their annual festival. An integral element of Padayani is a ceremonial procession in which artists wearing facial mask and costumes (kolam) made of raw areca palm spathes and leaves appear.
An association named Sridevi Padayani Sangham here has embarked on a mission for sustaining the availability of areca palm spathes. With its message 'One spathe from one house', the group of youngsters is planting saplings of areca palm along roadsides and house compounds and taking care of them on Sundays.
The youngsters have taken over the care of the trees since the number of Padayani performances are on the rise every year and demand for spathes is high. The drive has seen over 3,000 saplings getting planted in the past two years.
They are also planning to distribute 500 saplings to households. Under the project titled 'Palakeerile varnavasantham', the youth in Elanthoor village are aiming to plant at least 10,000 saplings. They are also holding awareness drives in educational institutions too.
Padayani, which is associated with Bhadrakali temples, is noted for the confluence of the elements of theatre, satire, music, painting and dance. The facial masks used by the artists are painted with figures of goddesses. Different natural colours and intricately cut palm leaves are used in their costumes. 
There are different types of kolams and areca leaves are required for making all of them. Some of the biggest kolams are made of up to 101 pieces of spathes and some 2,500 to 3,000 spathes are needed for the dance performance every season.
Ahead of the festival each year, spathes and leaves are collected from the areca plantations in Manimala and from households. Each spathe costs Rs 55. The total expenditure on spathes alone could hit Rs 2 lakh in one season alone.
The Sridevi Padayani Sangham has 200 members. S Dileep Kumar conducts the classes now after the death of Padayani guru A K Sashidharan.