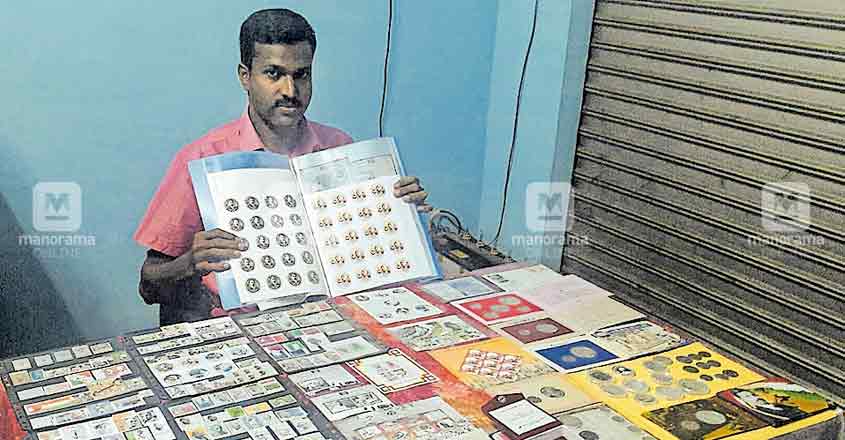 Chandanapally: Collectors of historical memorabilia have priceless possessions in the form of rare coins, stamps and other antique curios. Stamp and coin collectors are numerous but those specialising in both these hobbies are fewer. Here is a philatelist and a numismatist, rolled into one, with a specific focus. He collects stamps and coins that have been released commemorating Mahatma Gandhi.
R Shiju, a civil police officer with the Koduman police station near here in Pathanamthitta district, has a rare collection of Gandhi stamps that were issued since 1948.
The Government of India had unveiled the first postal stamp honouring Mahatma Gandhi on August 15, 1948.
Shiju's album boasts of one-and-a-half anna, two-and-a-half anna, 12 anna, and Rs 10 Gandhi stamps, and Rs 75, Rs 20, Rs 5 and Re 1 postage stamps that were released as part of centenary birth anniversary celebrations of Mahatma Gandhi in 1969.
The cop also has Gandhi commemorative coins in the denominations of Rs 20, Rs 10, Rs 1 and 50 paisa. Of these, the Rs 10 stamp is quite rare as it was released for the first time in the country. The Re 1, Rs 2, Rs 5, Rs 10 and Rs 100 currency notes with pictures of Gandhi are also a collector's dream. The stamps released by the US on January 26, 1961 and Congo in 1967 honouring Gandhi stand out in Shiju's invaluable collection.
To date, as many as 100 countries have issued stamps in honour of Mahatma Gandhi, and Shiju has most of these stamps in his postage albums.
The central government has so far released 80 different varieties of postage stamps on Gandhi. A round stamp issued in 2018 finds a prominent place in this police officer's collection.
Indian coins with images of Gandhi and silver coins on him issued by countries such as Mauritius, South Africa, Malta, Liberia, Cook Islands, Andorra and the UK are some other gems in Shiju's collection.