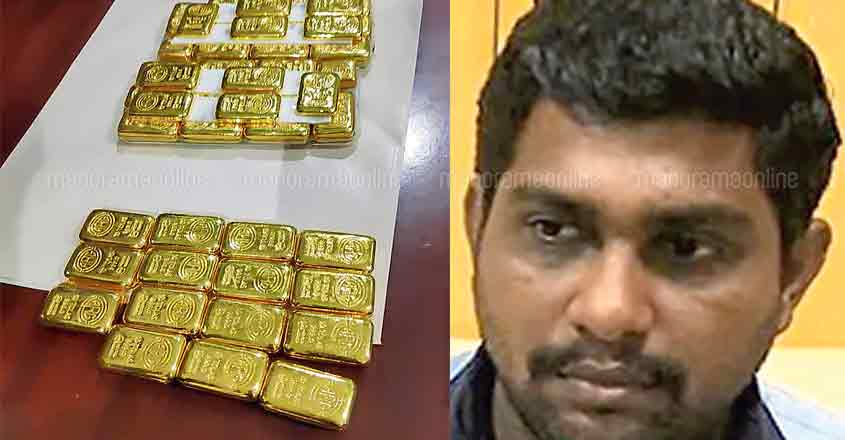 Thiruvananthapuram: A contract employee has been arrested trying to smuggle 9.5 kilos of gold worth Rs 3 crore out of Thiruvananthapuram Airport. The new nab comes barely 15 days after another bust of gold worth Rs 2 crore, where employees of customers section were detained.
82 biscuits were recovered from AC mechanic Anish. He smuggled 45 kilo gold in four instances earlier, Customs authorities reported. Search is on to find the traveller who handed him the gold.
Anish was handed the gold on an aerobridge by a passenger who landed in an Emirates flight at 3.30 am on Tuesday. They were concealed in mobile cases and wallet-like packets. Black tape was applied over them. Anish tried to get out of the CISF gate meant for airport employees. No Customs officers are posted here.
However, high alert after Sri Lanka blasts foiled his attempt. As security personnel approached to check him, a visibly shaken Anish tried to flee. He threw away one packet. He was caught and handed over to Customs. Anish will be produced in court today.
Five people, including airport employees, were caught on April 11 for smuggling almost 6 kilos of gold worth Rs 2 crore. The employees planned their work hours in advance to facilitate the movement of gold in a bus used to transport passengers from the airplane to terminals. They were paid in lakhs for completing this task.
Security lapse
Smugglers are exploiting lapses in security check at exits meant for airport employees. Recent incidents prove gold is being smuggled through these exclusive exits. Employees are used to smuggle gold due to the lack of scrutiny here.
Anish deployed a similar method. He had walked out freely through the same exit four times before.
Of the four exits in the airport, only one guarded by Customs is meant for passengers. Other three can be accessed by employees. They are at departure, export cargo and CISF main gate. Employees seldom get frisked here. When they are, they get queasy, say Customs officials.
Anish tried to sneak out through the same gate this time too. Usually the metal detector goes off because of mobile phone in the pocket. This time, he was asked to keep mobile out before passing through the detector. Anish struggled to get out and a packet slipped out of his hands.
Five were arrested in a similar case 15 days ago. They used a transit bus for completing the exchange. On sensing trouble, the gang concealed the gold in washrooms at terminals.