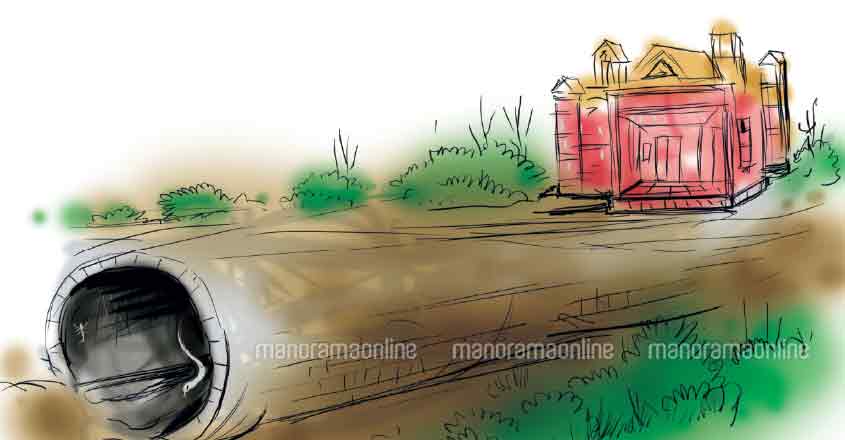 Thiruvananthapuram: Intriguing lores about places fascinate many. A few myths about Kerala's present-day capital city Thiruvananthapuram have their origins in its royal past when its was the seat of the Travancore Kingdom.
Many people in Thiruvananthapuram still believe that an abandoned, secret tunnel runs for almost one kilometre from Kowdiyar Palace to Bhavani Palace at Nanthancode under the busy roads of the capital city.
The secret tunnel is believed to have been made during the World War period as a potential escape route for the Royal Family in case Travancore had to bear the brunt of the War. It is said it reaches below the steps to the office of the Travancore Devaswam Commissioner that functions from the first floor of the building at present.
The recent move by the Travancore Devaswam Board to demolish the historically important building of Bhavani Palace had sparked a row.
Bhavani Palace
The Bhavani Palace was named after Bhavani Thampuratti, the sister of Queen Mother, Moolam Thirunal Sethu Parvathi Bai (1896-1983), known as Amma Maharani, of Travancore Royal Family. Rama Varma of Poonjar Kovilakam, the elder brother of Colonel Goda Varma, was the consort of Bhavani Thampuratti. However, the couple had lived in the palace only for a short period, after Rama Varma shifted to Alakkott in Kannur district with his wife, settling down on two acres of land he purchased. He had played an important role in the development of the northern Malabar by creating infrastructural facilities including a school at Alakkott.
The Bhavani Palace was handed over to the Devaswam Board during the reign of Sree Chithira Thirunal Balarama Varma (reign: 1924-49).
However, not many members of the public were aware of the secret tunnel that existed between the two palaces.
Witness to history
Historian M.G. Sasibhooshan remembers that the tunnel was constructed under the pretense of creating a new facility for water distribution. That must have been for maintaining the secrecy of the tunnel. At present, apartment complexes and other multi-storey buildings tower over the route of the tunnel.
"I'd seen that secret tunnel during my school days at Kowdiar. There was a huge well at its starting point. However, that well was covered when an apartment complex came up there. The tunnel must be run over by undergrowth now. Any move by the Devaswam Board to demolish the historical structure of Bhavani Palace will be an injustice to history. Even the statue of Sree Chithira Thirunal Balarama Varma who handed over the building to the Devaswam Board is in a neglected state there," Sasibhooshan stated.