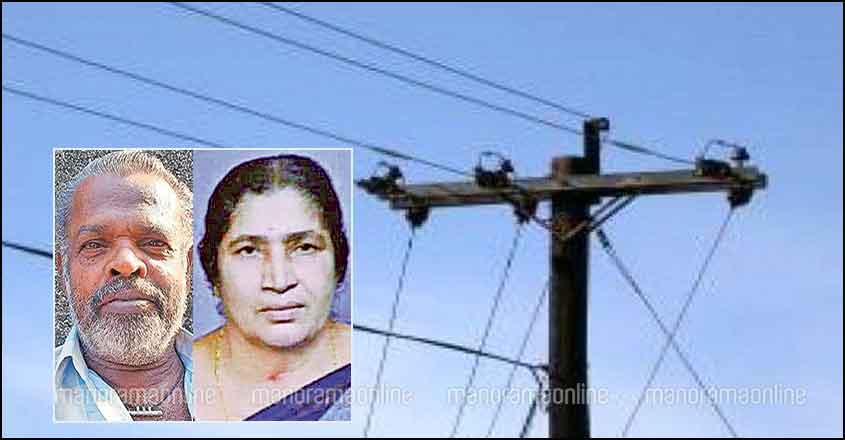 Thiruvananthapuram: Two pedestrians were electrocuted after they accidentally came in contact with a broken power cable lying on a waterlogged stretch near Pettah on Monday morning.
The deceased were identified as Prasannakumari, 65, a resident of Kavadi Lane, Nedumangad, and Radhakrishnan Achari, 70, of Pulli Lane, Pettah.
The incident occurred around 5 am. The snapped three-phase electric line was found lying in a water-logged stretch between the Pulli Lane and the Chakka school along the airport road. Radhakrishnan and Prasannakumari, who passed through the area, accidentally came in contact with the broken power cable and got electrocuted.
The police have recovered the visuals of the dreadful incident from a surveillance camera installed by the resident's association.
Prasannakumari, who was on her way to Kumarapuram where she works as a housemaid, was the first victim. S Sumesh, a newspaper vendor, who was passing along the road around 5.30 am, spotted her lying unconscious in the stagnant water. Though he also suffered an electric shock, Sumesh somehow managed to scramble a safe distance away. But when he looked back he saw Radhakrishnan Achari, who was an employee of a nearby temple, stepping over the wire and getting electrocuted.
It was assumed that heavy rains that lashed the city early Monday had caused the live wires to snap. Police reached the spot upon alerted by Sumesh. Power supply in the locality was also cut to prevent further causalities.
The KSEB has announced an ex-gratia compensation of Rs 10 lakh each to the families of the victims. Of the amount, Rs 2 lakh each was awarded to their kin on Monday itself.