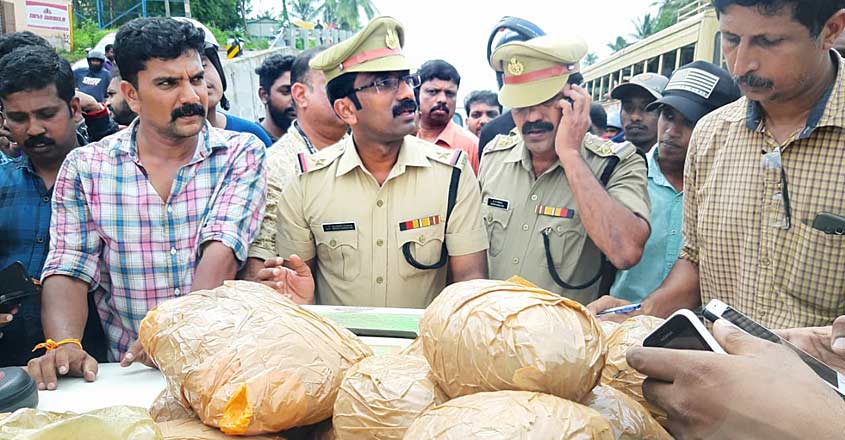 Thiruvananthapuram: The drug trade is lucrative and Kerala is a popular market for drug pushers of late. Excise sleuths, who are keeping a close tab on narcotics trade, have seized drugs worth Rs 20 crore from a luxury car and arrested a notorious drug dealer from Kerala's Thiruvananthapuram district on Saturday.
The drugs brought from Bengaluru were likely for distribution in various parts of the state. The substance was hidden in a secret chamber specially built for the purpose underneath the vehicle.
Around 20kg of hashish oil, 2.5kg of weed and 240gm charas were seized. The police have arrested Georgekutty of Onamthuruthu in Kottayam over the incident. The 34-year-old known as GK is an accused in several cases of drug trafficking and many criminal cases, including stabbing a police officer.
Slapped with the Kerala Anti-Social (Activities) Prevention Act (KAAPA), he is also barred from entering Kottayam district. The excise sleuths said Georgekutty, who is based in Bengaluru, has close links with the drug mafia in Andhra Pradesh.
He reportedly brings in huge quantities of hashish oil, weed and charas to Bengaluru and sells them in Kerala with the help of his partners. He does not come to Kerala normally. However, this time around he directly took part in the deal as it was worth crores of rupees, it was said.
After getting a tip-off, the state-level excise enforcement squad conducted vehicle checks at Vazhamuttom on the Kovalam-Kazhakootam national highway bypass in Thiruvananthapuram and came across the huge drug stash.
The excise commissioner is directly in charge of the squad, which has stepped up action to track down the accused's partners in various districts. Excise minister TP Ramakrishnan and excise commissioner ADGP S Ananthakrishnan, IPS, congratulated the squad.
Squad chief Thiruvananthapuram excise circle inspector T Anilkumar, excise inspectors G Krishnakumar, A Pradeep Rao, K V Vinod, T R Mukeshkumar, preventive officers S Madhusudanan Nair, V S Deepukuttan, G Sunil Raj, P S Byju, civil excise officers S Krishnaprasad, S Suresh Babu, A Jaseem, P Subin, and V  R  Binuraj took part in the mission.
It was only last month a shadow police team from Thiruvananthapuram nabbed a notorious drug smuggler Sreenu alias Sreenivas from the interiors of Naxal-dominated regions of East Godavari district in Andhra Pradesh. A huge drug cache of 325 kg of ganja worth over Rs 1.5 crore was seized from the 21-year-old Andhra Pradesh native. A recent arrest of a drug trafficker in the Kerala capital had revealed that a substantial chunk of drugs into Thiruvananthapuram came mainly from Narsipatnam and East Godavari, in the northeastern part of Andhra Pradesh.