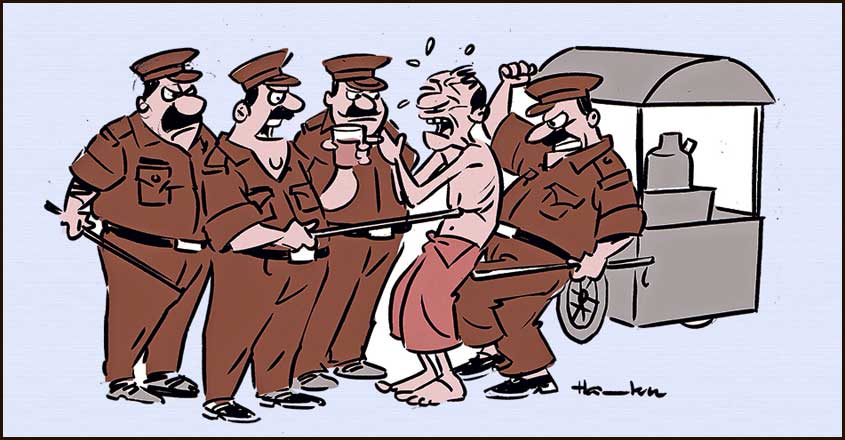 Thiruvananthapuram: Four policemen deployed in the pilot vehicle of the Chief Minister have been sent to the SAP Camp in Peroorkada as punishment for a week. The action is based on a report of the Special Branch which said that the four cops brought disrepute to the police force by creating ruckus at a street-side eatery after having food from there.
Incidentally, the punished cops were included in the Special Branch recently. Earlier, the Museum Police had settled the case by reportedly threatening the eatery owner.
The incident related to the case took place a month ago at a wayside eatery near Vellayambalam in the capital city. Around 10 pm, the four police officers had reached the outlet on two bikes to have food. They entered into an argument with the owner and manhandled him. The Special Branch, which held an inquiry into the incident, found that the policemen had also caused destruction at the eatery.
When passersby crowded around the place noticing the brawl, the cops revealed their identity and fled. The eatery owner filed a complaint with the Museum Police and sought treatment at General Hospital.
Eatery owner forced to drop the complaint
After receiving the complaint, officers from the Museum Police Station reached the spot and took away the bikes left by the cops who had created the ruckus. Meanwhile, leaders of the Police Association and Officers' Association intervened. The Museum Circle Inspector reached the hospital and compelled the authorities to discharge the complainant. The eatery owner was also forced to withdraw his complaint. He was threatened that he would not be allowed to carry out the business if he failed to comply. But the police also promised to secure compensation for him. The complaint was subsequently withdrawn.
However, the State Special Branch filed a detailed report on the incident to the DGP the next day. The matter also reached the Chief Minster's office. Leaders of the police bodies again intervened and delayed action against the cops pointing out that it would create a controversy.
Meanwhile, the erring cops were served with a week's punishment parade from Thursday. No reason has been cited in the order issued in this regard. 
Two of the policemen are part of the India Reserve Battalion and others of City AR Camp. As they are deployed for permanent duty in the Chief Minister's pilot vehicle, the policemen are currently under the Special Branch. Another batch of policemen is also engaged in permanent pilot duty.